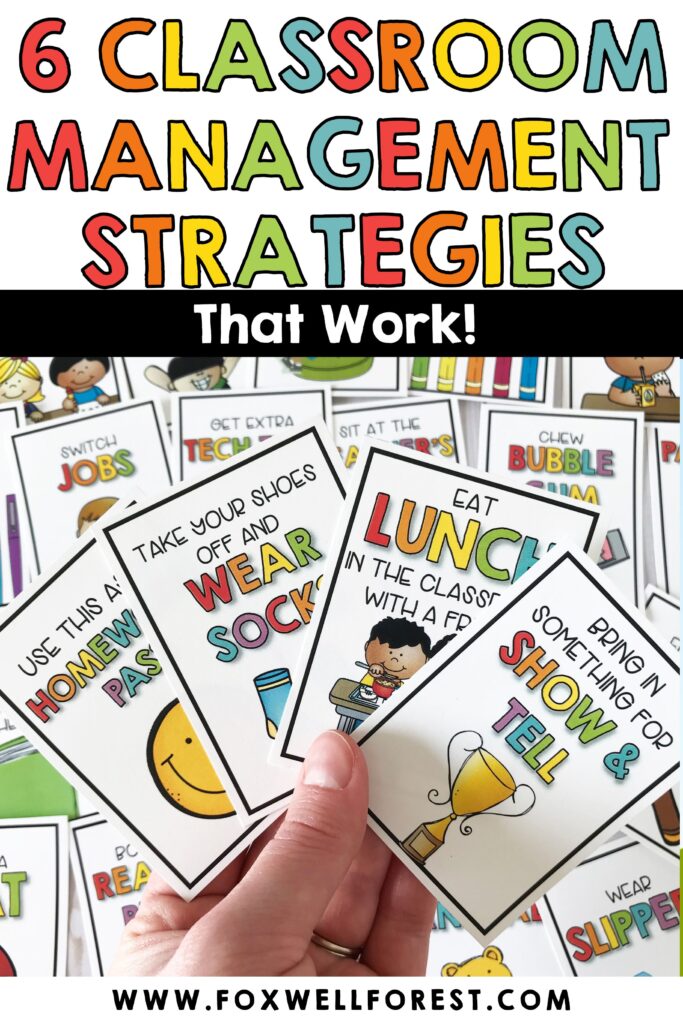 What are Classroom Management Strategies?
Are you in dire need of classroom management strategies that work for you and your students? I have been asked a lot during my teaching career, what are some simple yet effective classroom management techniques? I am going to dive WAY in today and tell you the 6 classroom management strategies that worked for me in my first grade classroom room. It all comes down to this: If you create a structure and routine that stays the same, but provides enough variety to change it up when needed, the behavior results can be magical. The best part Is that these classroom management tips can work for kindergarten teachers all the way up to upper elementary!
Classroom Management Strategies that Work!
Below I'm going to explain all about the 6 simple strategies and routines that I used every single day to make my classroom run effectively and smoothly. These six tools are so easy to put into place, and will help you keep students engaged while also having fun along the way. (Number 6 is probably my favorite!) Ready?! Let's dive in!
1. Use Call & Responses to Get Student's Attention
First off, getting each student's attention in class has to be FUN or they won't listen when you need them to! Using attention getters for elementary students is a key way to make sure that you have your students undivided attention when you need it.
What I love about using Call & Response Cards is that the structure and routine of the strategy stays the same all year long, but you can just easily change up the Call & Response phrasing that you use whenever you need to!
Pick one call and response to teach your students at a time. (I highly recommend using rhythm and inflection in your voice when teaching these call & response cards. The energy you give your students will be the energy they give back to you!)
Train them that when they hear you say or sing your phrase their job is to respond with their phrase and THEN freeze to give you their eyes and ears. (The freezing part and giving you their eyes and ears is key!)
Model and practice! If they aren't responding or aren't freezing to give you their attention after their response go back and retrain/remodel! (You have to set and keep the expectation for this strategy to be effective!)
You can change your call and response as often as your class needs: daily, weekly, monthly! It truly depends on you and your students! (The beauty of these cards is that the routine stays the same all year long, which sets students up for success! They know that when you say a phrase, they repeat their phrase back to you, and then freeze to give you their eyes and ears. The only thing that changes is the phrase!)
2. Have Specific Class Rules for Elementary Students
Having specific and simple class rules for elementary students is so important. How many classroom rules should you have? When I taught first grade, I liked to have 3 classroom rules. Like I said-keep it simple! Here are the 3 classroom rules for elementary students:
Be Respectful: Treat others the way that you want to be treated!
Be Responsible: Make good choices!
Be Ready to listen and learn!
I used those 3 rules for eight years and they totally transformed my classroom management! I believe that these values are crucial in any classroom. As the facilitator of learning, I believe it is important that I not only help my students be successful in first grade, but also to be successful in life! Therefore, I wanted my classroom rules to be values that could be applied in and outside of the classroom. They are rules that I model and want to follow in my life as well!
I even created posters and motions/gestures to go along with each of the rules, because kinesthetic movement helps students retain what they learn and it is also fun!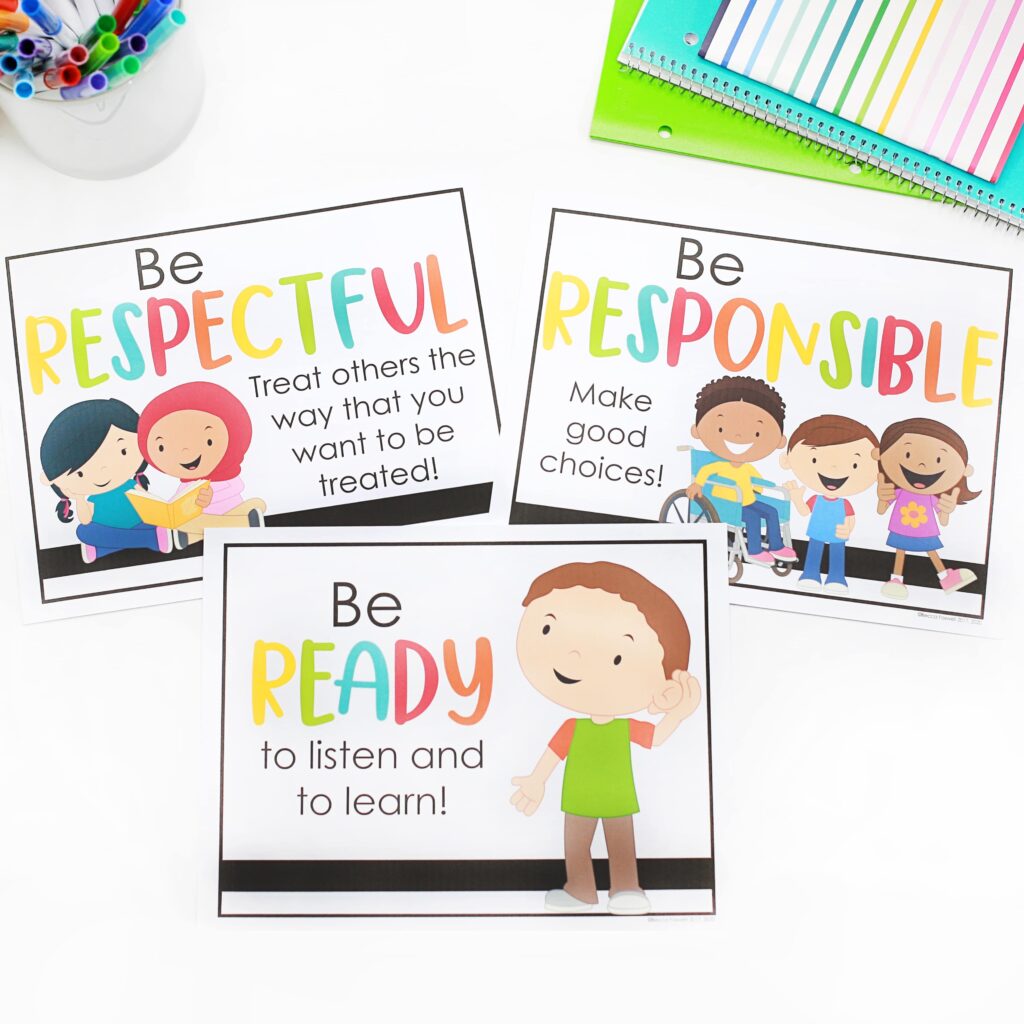 3. Classroom Cheers
Classroom Cheers are hands down one of my favorite tools for building a positive classroom environment. I honestly can't imagine teaching without them and think that you and your students will love them too!! We should be celebrating and creating a positive environment to cheer each other on inside our classrooms. Try using a classroom cheer when a student is a helper in class, shares a writing piece, uses critical thinking skills or even anytime you feel the need to encourage and give praise. You can try these 4 Classroom Cheers FOR FREE!
These cheers will help you establish a positive learning environment where each student is celebrated, confidence grows, and students feel safe to learn and try. Watch your participation and motivation increase with each cheer!
4. Do Brain Breaks with Movement
Are you stopping to let your students have brain breaks throughout the school day? Let's discuss why brain breaks are important: bodies NEED to move! There is actually a lot of research behind this! Using brain breaks throughout the school day allows students to intentionally move so that they can get their wiggles out, become energized when they're getting tired, and help them maintain focus.
for transitions
when students are wiggling and need to focus
when students are dragging and need a pick me up
before and after tests
As a teacher, I believe it's our job to set students up for success. Therefore, before you begin doing brain breaks with movement in your classroom, it's best to discuss the expectations and boundaries.
Think about things such as:
What do students need to do to show you that they are ready? (For example, I had students stand up, push in their chair and stand quietly to show me that they were ready for directions after the brain break.
How do you know when the break is over? (I liked to either set a timer or use a 10 finger countdown so students would know that when I got to 1 the brain break was over and they needed to stop.)
Can students move around the room or do they need to stand at their desk? (This can depend on the type of break or personal preference, but either way let them know ahead of time so they are aware of the rules).
5. Reward Coupons
Reward coupons are an easy way to give students the positive reinforcement for making great choices without breaking the bank on purchasing toys, stickers and such. Students love the variety of reward coupons and you'll love how easy these coupons make it to reward positive behavior in the classroom without continuously spending money on prizes!
Simply print the coupons, laminate them (optional), cut, and organize in a binder to begin using. The 25 different rewards coupons are not anything crazy or time consuming to plan out. Some reward coupon examples are letting the student wear pajamas to school, pick the read aloud book or sit at the teacher's desk (this was always a favorite in my room!)
6. Use an ACTION WORD for Following Directions
Using an action word has always been one of my favorite classroom management strategies because it's not only so easy to use, but is also SO effective! Have you ever given directions to your students, but then they still don't know what to do? If you've ever felt frustrated that students weren't listening to you or following your instructions, then you're going to love using the Action Word Classroom Management Strategy!
Using an action word makes giving instructions a breeze! An action word is a word that your students have to listen for, before they can begin a task. They cannot begin moving or starting an activity until they hear you say the action word! It's really magical once you practice it enough! You will not have students rushing to start before you've barely said the first word of the directions nor have students raising their hands constantly to ask what to do.
The best way to teach this classroom management strategy to your students is to have them pretend that they are on a movie set. Just like the actors and/or actresses cannot begin until the director says "Action!" the students will not begin until they hear you say the action word! While you can use any word as your action word, I suggest using academic words that you are currently learning in class or need to review, because it allows you to maximize your instructional time by throwing in a super quick review of the word. It's truly a win-win!
The Classroom Management Bundle
You can easily use each classroom management item that you need to above or save money and purchase the entire Classroom Management Bundle to get all 6 classroom management strategies listed above.
Teachers love using this bundle and I know that you will too!
"I love having all these at my fingertips. From call outs to cheers and brain breaks. It gives me the ability to mix it up easily and keep my students interested and engaged.
— Andrea S."