Y'all, (and yes, I know I'm from the north, but my youth pastors in highschool were from Texas and I find that it just rolls off the tongue nicely! Don't you agree?) here's what I love about Groundhog's Day:
INTEGRATION! Groundhog's day is the P.E.R.F.E.C.T. way to naturally integrate so many standards into one oh.so.cute (and FUN!) package. Predicting, calendar, graphing, data, writing, holidays…and writing alone opens up a whole new door of options (opinion writing, persuasive writing, letter writing…) Goodness. The possibilities are just endless.
So, when I made my newest
craft for groundhogs day
, I just couldn't help but give you multiple writing options to choose from (5 infact!)
It comes with everything you need to make these little cuties: all of the templates that you can either print or use as tracers AND it comes with a blackline master so that you can even just print it and have your kiddos color. I know that I have a teaching friend in another district that prefers this option because her school doesn't provide construction paper. So thankful that mine still does, because I love me some cute craftivities!
My brain just spins with ideas for projects so instead of picking one, I like to include many options so that it gives you the flexibility to plan for the needs and standards of your classroom. So this
craft
(as do most of my
crafts
) comes with 5 different writing options!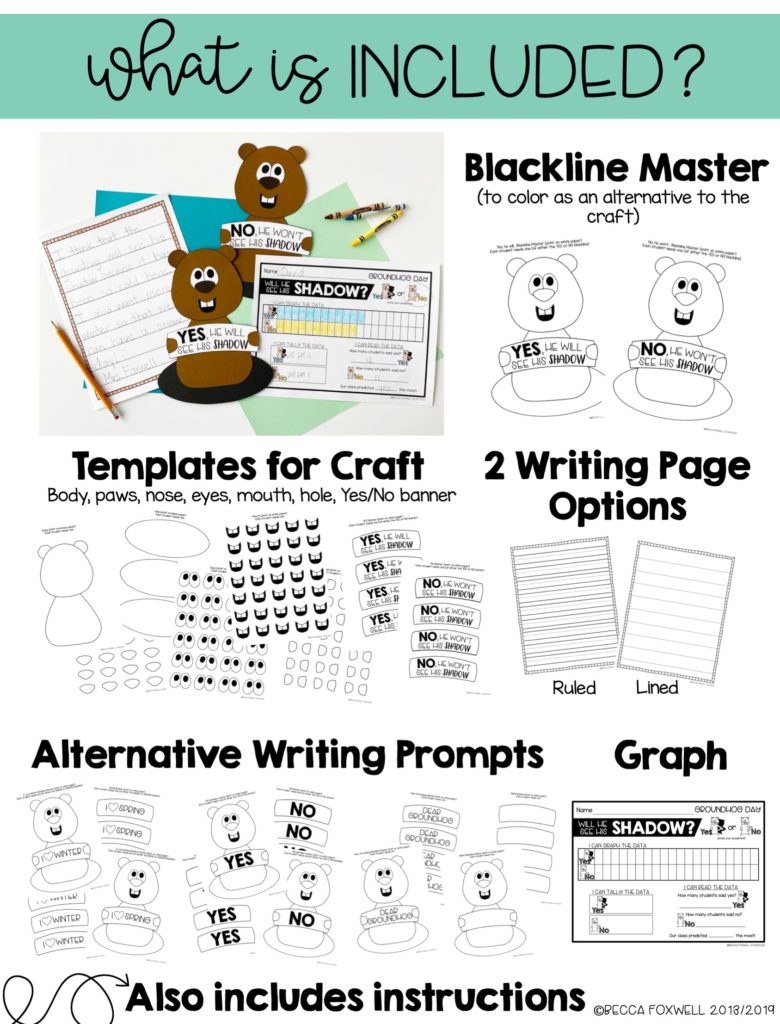 All together this packet includes:
all of the templates and a blackline master for the "Yes he will see his shadow" and "No he will not see his shadow" craft with instructions
writing pages (both lined and ruled)

4 additional writing prompt hearts and blackline masters with suggested ideas for each

I Love Spring or I Love Winter
Yes or No
Dear Groundhog
a blank banner and blackline master to create your own writing prompt
Click HERE or on the picture to purchase it!
AND because I'm all about integration, I have included a Groundhog graphing/predicting page as part of the
craft
. You can even use the graph with the craft if you don't want to include the writing component!
Since Groundhogs day falls on a Saturday this year, I'm planning on using both the craftivity and the graphing page on Friday, February 1. Then when the kids come into school on Monday we will talk about the results! However, due to the 5 writing options this craftivity would also work AFTER Groundhogs day: your kiddos could write a letter to the groundhog explaining how they feel about the results or write a persuasive piece about why winter is better than spring or spring is better than winter.
What is your vote? Will he see his shadow?