Effective partnerships with students' families begins with positive and consistent communication! Below, I'm giving you five must-have tools for positive parent communication. Set you and your students up for success by having good systems in place for communication with families throughout the year!
1. Choose One Central Communication Platform
Having multiple places to communicate with families can be overwhelming for both us and for them! Choose one central communication platform that you will use to communicate with parents and for them to be able to communicate with you. This will help streamline communication and make it easier to stay connected all year long. I'm all about working smarter, not harder and trust me this will make your life so much easier!!
There are SO many different platform options for you to choose from! While you could choose to just use email, that felt overwhelming to me because our inboxes are already overflowing each day and it can be easy for emails to get buried! Instead, I loved using Remind to communicate with families digitally. But I know other teachers that love using ClassTag, SeeSaw, or ClassDojo for their communication platform.
Using Remind allowed me to have everything in one place. I could send group messages, individual messages, pictures and digital newsletters. Even for important papers that the school sent home I could take a picture of it and send it home to parents to be on the lookout for. Parents could also reach out to me and send me a personal message. I liked that it kept a history of all of our conversations and I could also schedule my messages to be sent out ahead of time via the computer or the app on my phone. I would do this once a week and then be set to go!
Regardless of what platform you use, be sure to tell families at the beginning of the year on how you will be communicating with them and how they can get in touch with you! Then, use it and be consistent with it! This will set you up for success for the year!
Occasionally, you may get a parent that isn't on board with the digital communication platform and when that would happen I would just try to print a copy of important information to send home with that student. However, this is very rare and most parents, especially in the primary grades are eager to hear from you! I personally don't think that you can over communicate when it comes to parent communication!
2. Use A Parent Communication Log
As a new teacher, my principal encouraged me to keep a parent communication log and honestly, it felt so overwhelming to keep track of one more thing! I tried so many different systems, but none of them were easy to keep up with. So, I finally made my own parent communication log and it was an absolute life saver, because it was easy to use and keep track of! It's one of the best tools that you can have for positive parent communication!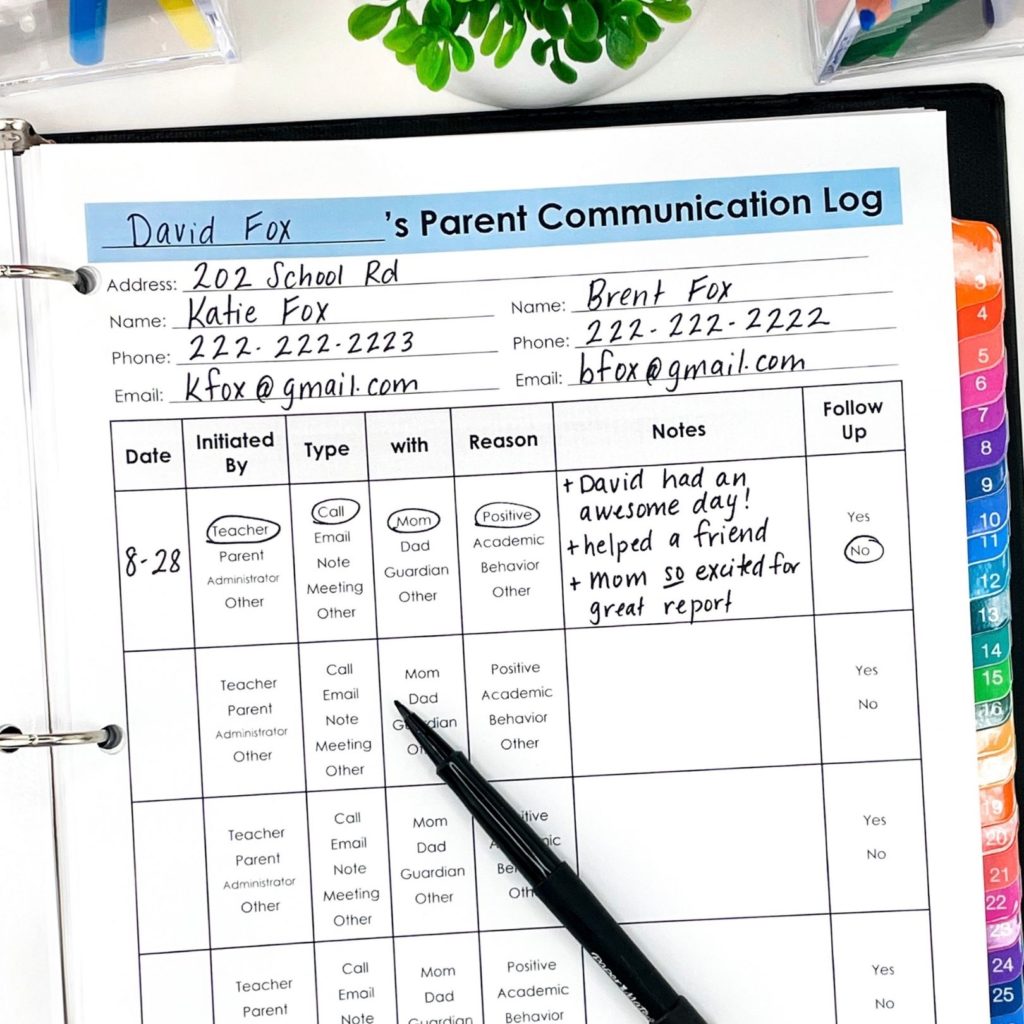 Keeping a parent communication log has so many benefits! A log will:
Give you great data for meetings when you're trying to get students extra support. The data also comes in handy if a parent ever questions something and you can pull out your log and show that you've reached out several times to them about their concern.
Help keep you organized so that you can see how consistent you've been with communication. It feels like we have hundreds of things to do each day as a teacher. It can be easy to let communication slip through the cracks. Having a parent communication log will help keep you accountable and on track for positive parent communication all year long!
Help you see the types of communication you've had with families. Have you only been contacting them for negative issues or have you also been contacting them for positive things too? Positive communication is so important with families! Try setting a goal to make a positive note or call to families once a month or once a quarter.
Communicating with families is so important! With so many families to keep in touch with, having a good parent communication log helps you stay organized! This editable parent communication log will make it so easy to not only set up your printable or digital log, but also use it all year long!
3. Send Home Newsletters
Most parents in the primary grades love knowing what students are learning about in class! A newsletter is an easy way for you to communicate with families about classroom happenings!
I highly recommend deciding how often you will send a newsletter home so that families know when to expect it. Will it be once a month? Weekly? Bi-weekly? There isn't a right or wrong answer, but the important thing is to be consistent.
My school ran on a 6 day cycle so I liked sending home our newsletter at the start of each new cycle. Families knew that on day 1 of the cycle they would be getting a newsletter sent home. I used to print off the newsletters, but once I started using Remind as my central communication platform I would just send a digital copy of the newsletter to parents as an attachment in Remind. This also helped parents know where to find it throughout the week!
Using an editable newsletter saved me so much time and I know it will save you time too! Not only is the format similar, but you can also save it and just change out the information each time.
4. Send Home Parent Letters & Notes
Have you ever needed to send a note home quickly to families to let them know about something happening in your classroom or at school? Then found yourself scrambling to put something together?
I was so tired of the last minute scramble, that I started making templates for different events and then saving them so that I just had to edit them each year. This saved SO much time when things like pumpkin day, Polar Express day, Valentine's Day, or even when parent conferences arrived!
I know how precious your time is and want to save you time too, so I've put together over 70+ editable Parent Letters & Notes Templates for you to use for your classroom happenings, school events, holidays, and subject related learning!
These will make it SO easy for you to keep families updated on the learning and events happening throughout the year! The format is all done for you! All you need to do is type in your information, then print the notes or send the full page notes home digitally through your central communication platform!
5. Use Monthly Calendars
I don't know about you, but I'm a calendar girl. I like to see the month's happenings in one place so that I can plan well!
Monthly calendars can be used in so many ways! You can use them:
To send home dates for the month on upcoming classroom learning and events
As a homework calendar
As behavior calendars
For your own personal calendar
These editable monthly calendars will save you so much time and help keep you organized!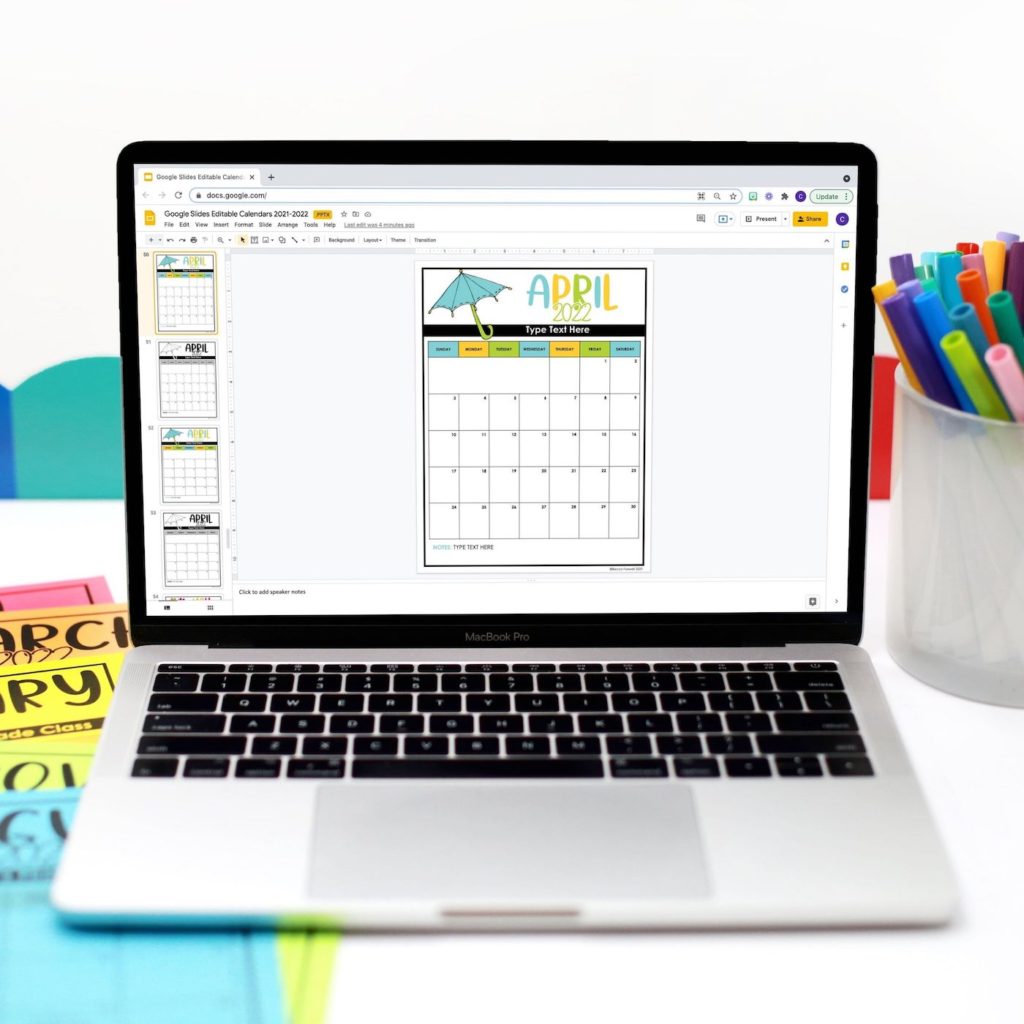 The editable format of these calendars make it easy to customize them for your classroom so that you can send out monthly calendars all year long! You can just type right into each date's text box to add your information!
BONUS #6: FREE Back To School Forms!
Gathering information from families at the beginning of the school year is so important for a successful year! Start your communication with families off on the right foot by using these editable Back To School forms! 
Send home the parent paperwork checklist along with the student information sheet, getting to know your child survey, and volunteer interest form. Then use the back to school forms checklist to keep track of the forms when they are turned in! The best part is that you can grab all of these for FREE!!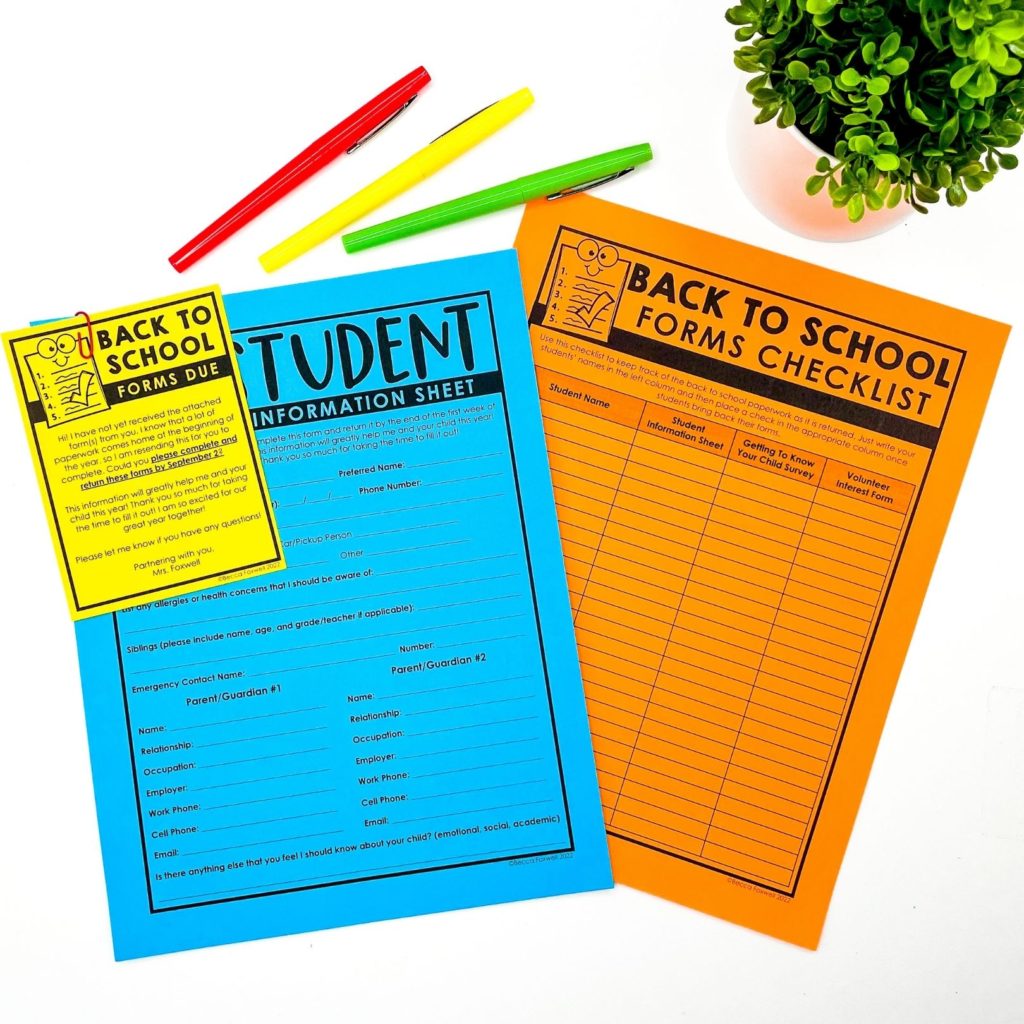 Parent Communication Is SO Important!
Positive parent communication is so important! You really can't over communicate with families, especially in the primary grades! Parents always appreciate having the correct information about things happening in your classroom!
Plus, the more you communicate with them the less messages you'll receive from them asking for clarifications and more details.
By being proactive with parent communication you are not only saving yourself time in the end, but also building positive relationships with your students' families. Which ultimately results in greater success for your students!!
Save Time With These Tools For Positive Parent Communication!
Having the right tools in place for positive parent communication will save you so much time! My Parent Communication Bundle includes an editable parent communication log, editable newsletters, editable notes, and editable calendars for you to be able to consistently communicate with families all year long!