Motivating students to write during center time can feel a lot like herding cats! It's challenging to say the least! An easy solution to engage students at writing center is by turning their writing into Class Books!
Why Class Books Work!
If there is ever a time that we need students to work independently and be fully engaged in learning it is during centers! But I also don't want students to just be doing busy work. When it comes to writing center time their writing needs to have a purpose so that their papers don't just pile up in the paper graveyard of their writing folders.
Class Books are an effective solution to your writing center problems, because it gives students a purpose for their writing!
Students love getting to read each other's writing and by publishing their writing in a Class Book it affirms to them that they are real authors and illustrators! So, when I started turning my students writing into Class Books, their motivation to do quality writing skyrocketed!
If you've been struggling to get your students to write during centers then you're going to love using Class Books too!
How To Use Class Books During Writing Center
Class Books are so easy to begin doing with your students! Here are some tips on how to use them in your classroom during writing center time:
1. Share The Exciting News With Your Students
One of my secrets to student engagement is to exhibit excitement with students about their learning! Do not just set the pages out at writing center and let them start writing!
You will want to introduce Class Books to them with pomp and circumstance! Tell them that you have really exciting news! Explain that they are each going to get to be published authors and illustrations this year! (insert cheers, claps, and all of the heart emojis!)
Explain that you will be adding fun writing pages into writing center and that when they are done their writing is going to be turned into Class Books that will go into your classroom library! (insert cheers, claps, and all of the heart emojis all over again!)
2. Set Expectations
Set your students up for success by setting expectations for how they will need to do the writing. Are you expecting detailed pictures? How many sentences should they aim for? While expectations for our growing writers changes throughout the year, be sure to communicate with them your expectations!
I'd highly recommend that you have a finished sample of a writing page for students to see. I also liked showing my students some finished Class Books from prior years!
You can even do the first book all together as a class!
While Class Books are perfect for writing centers, they also work great for other writing times too! You can use them for a writing mini lesson, as a writing response to a read aloud, or connect it to a holiday lesson or theme! You can use Class Books in so many ways!
3. Have Students Write!
I'm a firm believer in student choice! So, I recommend putting multiple writing page options into your writing center for students to choose the topic that they want to write about.
With 10 different writing topics for each month you'll have plenty for students to choose from!
4. Turn Students Writing It Into A Class Book
It's up to you on how you organize and manage collecting the writing! I always had my students put their unfinished writing in their writing folder for them to complete the next time that they were at writing center. And then I had a bin for students to turn their finished writing into. But, you could also collect it at designated times too.
I recommend setting a deadline for students to turn in their writing. The end of the month works great as a deadline so you have time to turn their writing into Class Books!
Once you've gathered their writing there are several ways to make your Class Book! If you have a binding machine at your school that works really well! I recommend printing the cover on cardstock paper and then having a blank piece of cardstock for the back cover. You can also laminate these pages as well for extra durability.
If you don't have a binding machine you could also use a binder or a 3-prong folder!
5. Add the Finished Book Into Your Classroom Library
Now comes the part we have all been anxiously awaiting! It's time to add the Class Book into the classroom library!! Can I get a drumroll please?
I've included book bin labels for you to use to make a Class Book Bin! Be sure to show your students the new books with wild excitement before you add them into the classroom library to be read and enjoyed!
6. Change Out The Topics Each Month!
One of the best ways to keep students engaged is to switch out the writing topics for them to use each month! My year long Class Books Bundle comes with 10 fun writing topics for each month. This makes it really easy for students to have new and fresh topics to write about!
Engage Students At Writing Center With Class Books
Turning students writing into Class Books is such an easy way to boost excitement and engagement during writing center time! Your students will LOVE getting to become published authors and illustrators!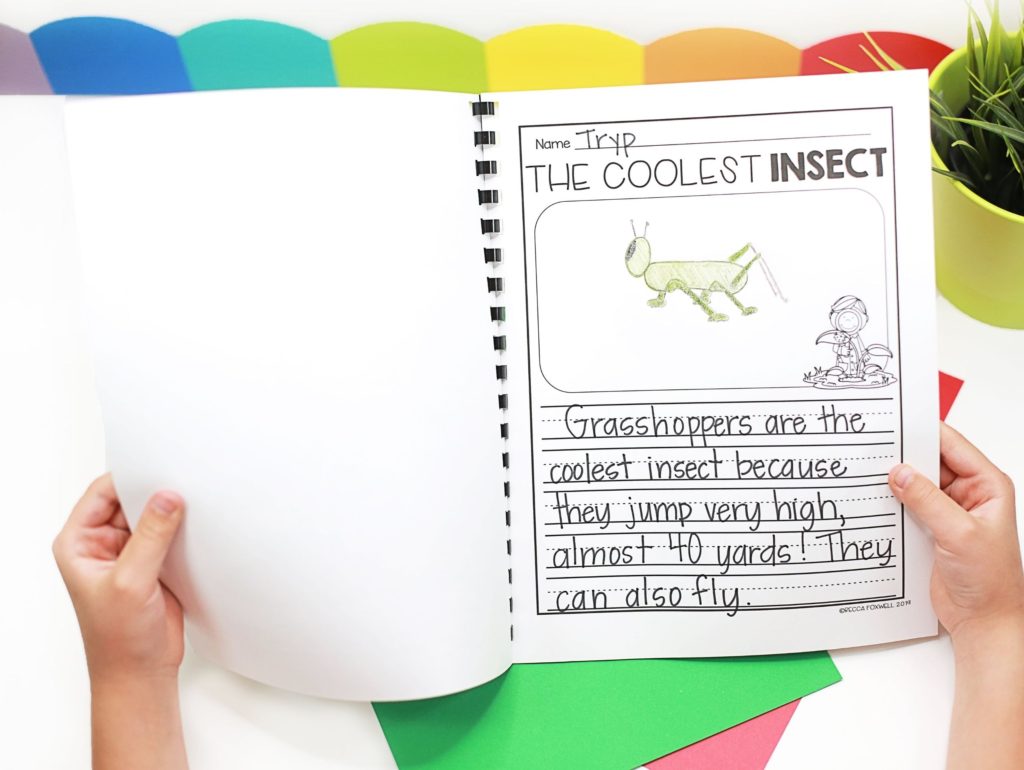 Grab The Class Books Bundle!
Your students will love making and reading these Class Books! Save big and grab the year-long bundle to keep your students engage at writing center all year!