One of my all-time favorite traditions at the end of first grade is to celebrate each student with a personalized award! But with an end of the year to-do list longer than the Nile River I was not up to throwing a fancy or elaborate end of the year awards ceremony! So, if you're feeling low on energy and short on time, I'm sharing some tips on how to throw a simple, yet meaningful end of the year awards ceremony with your students!
How To Throw A Stress-Free End Of The Year Awards Ceremony:
These 6 tips will make it easy for you to throw a stress-free end of the year awards ceremony that your students will always remember!
Step #1: Decide On A Date For The Awards Ceremony
Personally, I always liked having our awards ceremony on the last day of school, but you could do it anytime during the last week of school!
You can even send out an invitation to your students and their families ahead of time. If you need an editable invitation I've included a two different invitations in my End Of The Year Awards resource that makes it so easy to print or send home digitally.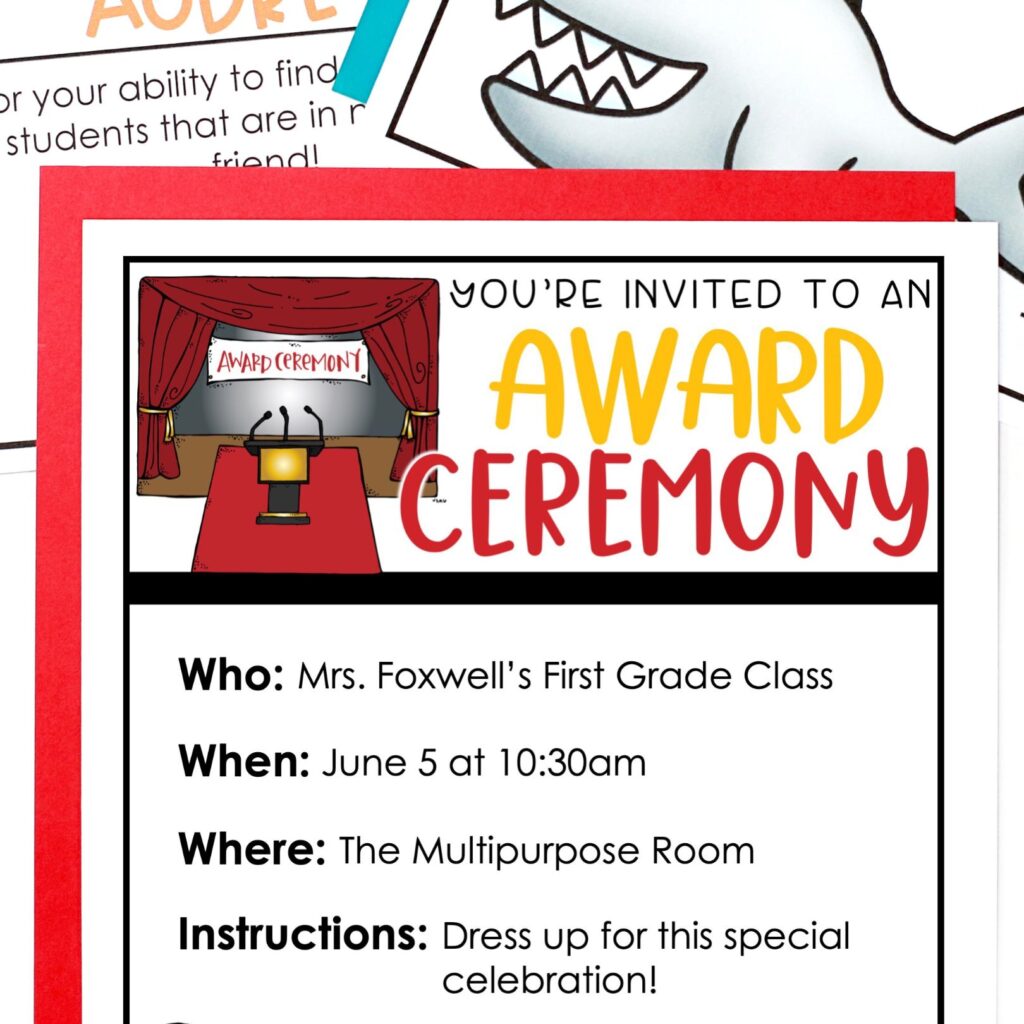 It is totally up to you on whether you want to invite families to participate or if you want to just do the ceremony with your students.
Step #2: Pick An Award For Each Student
Each of our students are wonderfully diverse and of great worth! When I taught first grade we celebrated how "everyone is different and different is the beauty of life!" all year long! So, it was very important to me that each student received an award unique to their personality, heart, strengths, and gifts!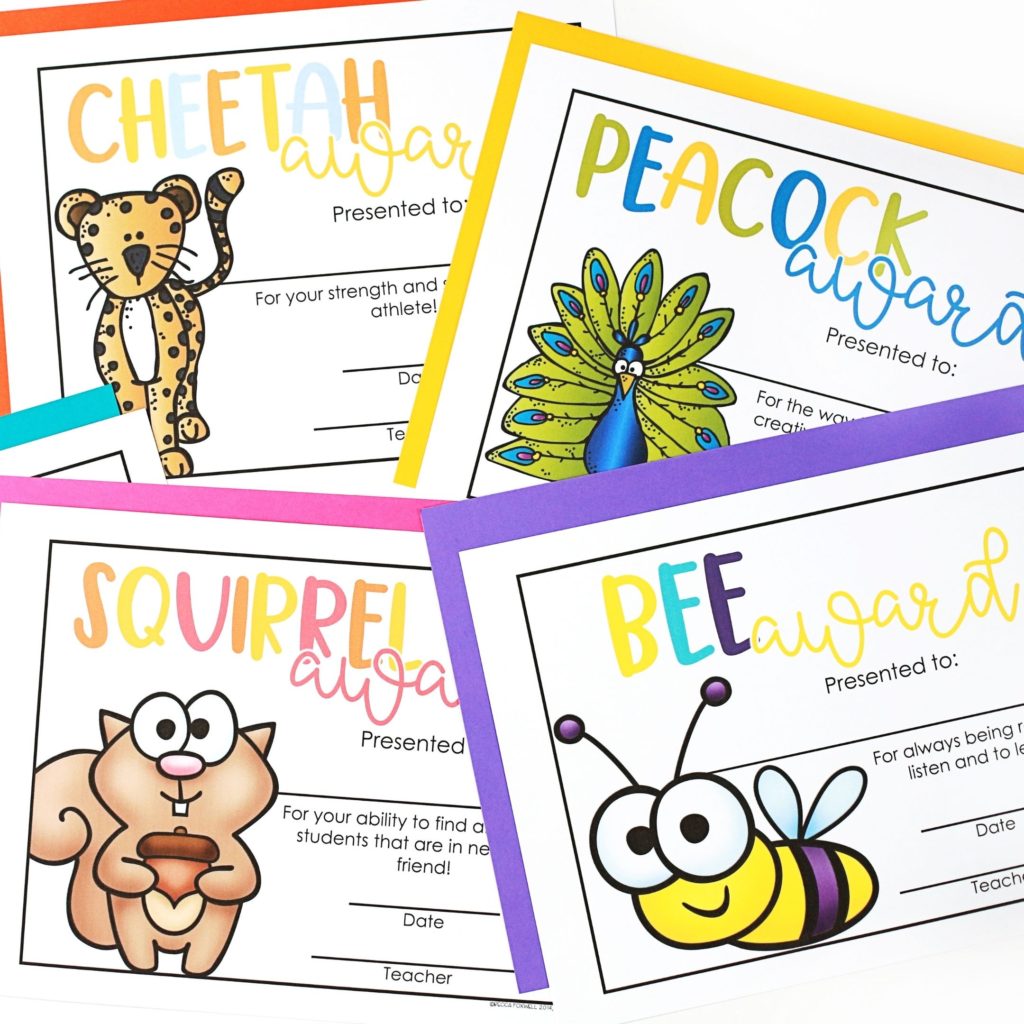 Since kids LOVE animals, I created 55 different animal themed end of the year awards along with an awards assignment list! This makes it so easy to find just the right award for each student!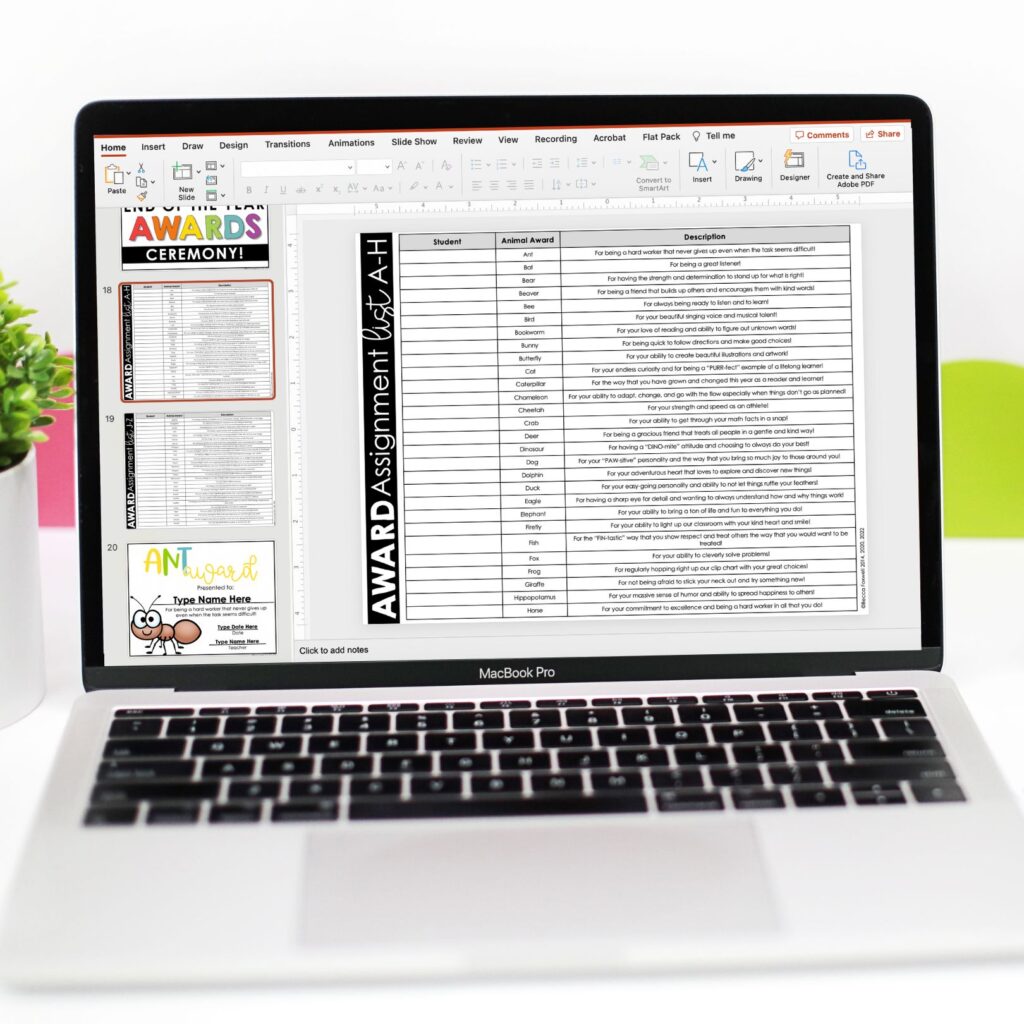 Each of the awards are editable, which saves so much time to fill out the awards! I liked to also laminate each of the awards before handing them out for extra durability!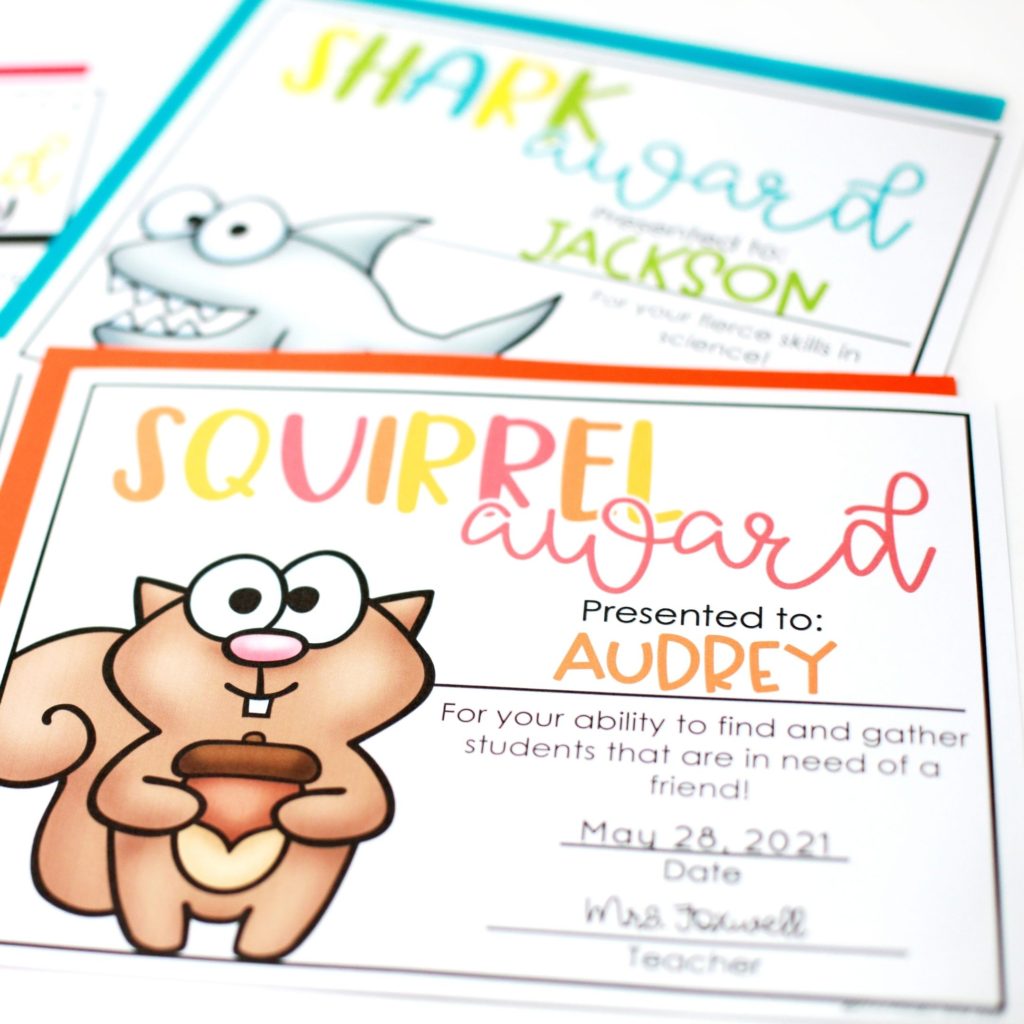 Step #3: Layout The Red Carpet
On the day of the awards ceremony, layout some red carpet for your students to walk up to receive their award! This doesn't have to be fancy. I just used red butcher paper and taped it to the ground, but I've also seen affordable red carpets at Hobby Lobby and Amazon that you could use too! Either way I found that just having a simple red carpet made it feel extra special! We would also move our desks and set up our classroom chairs in rows for the ceremony.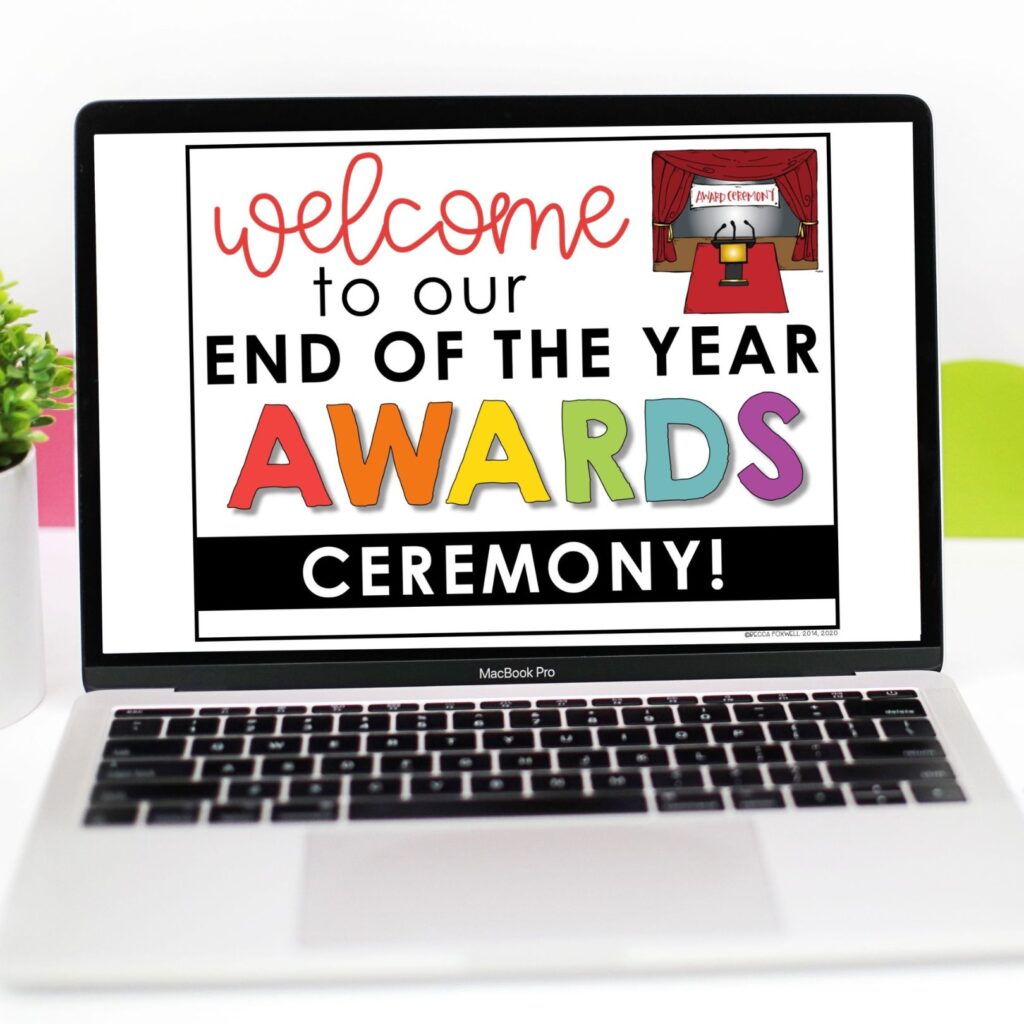 Step #4: Welcome Everyone!
To start welcome everyone to the end of the year award's ceremony! Tell them how proud you are of their hard work and how excited you are to celebrate each of them today!
Explain how the awards are unique for each student because everyone is different and different is the beauty of life!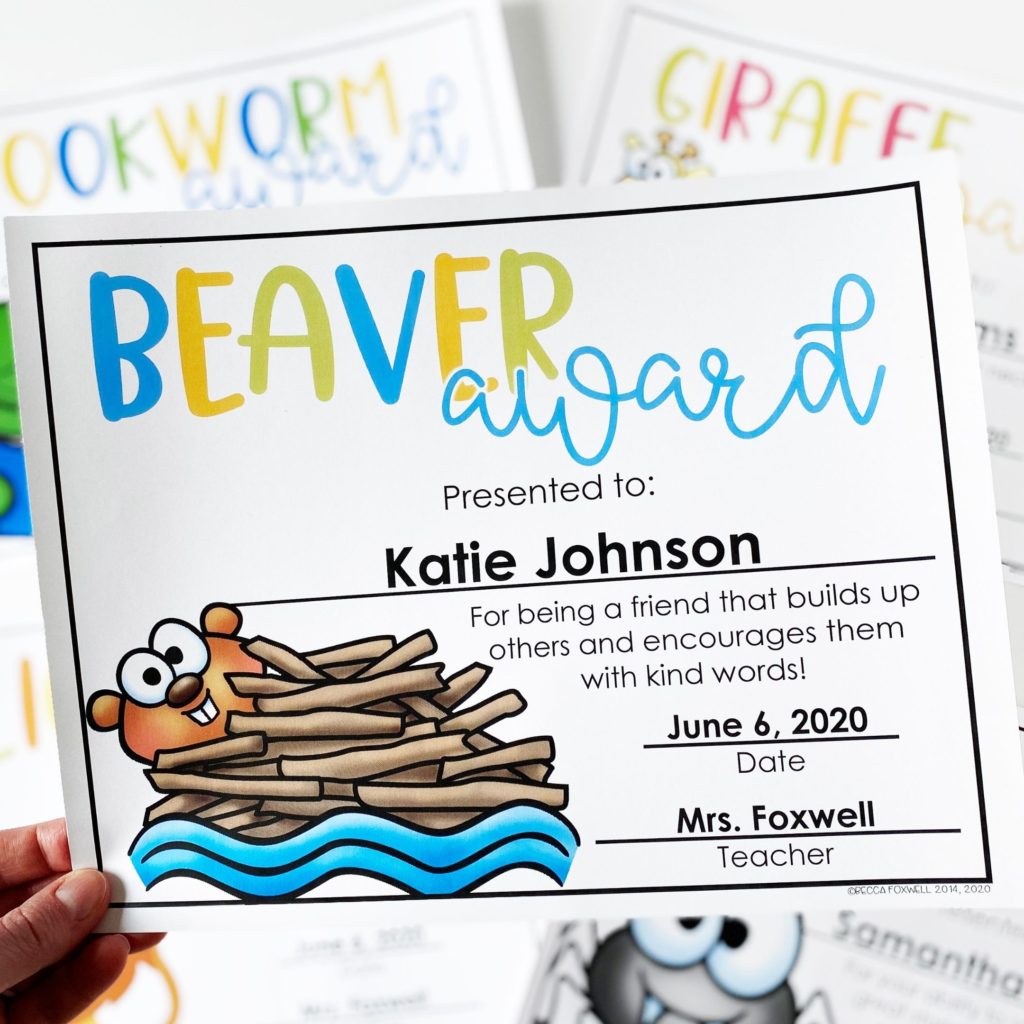 Step #5: Hand Out The Awards With Grandeur!
I've always believed that we set the tone for our classrooms with our excitement for learning and love for others! So, while you could just call each student up to get their award it makes it so much more special if you hand out the awards with grandeur!
Here are some tips to add some extra pomp and circumstance to the end of the year awards ceremony:
Have some music softly playing in the background as you're handing out the awards! You can never go wrong with the traditional pomp and circumstance march!
Build anticipation by explaining the award first and then revealing the student who is getting the award (with a drumroll, of course!) My students also loved trying to guess who was going to get each animal themed award!
Have everyone cheer as each student walks up the red carpet to receive their award!
When you've handed out all of the awards do one last big cheer for everyone and their hard work this year!!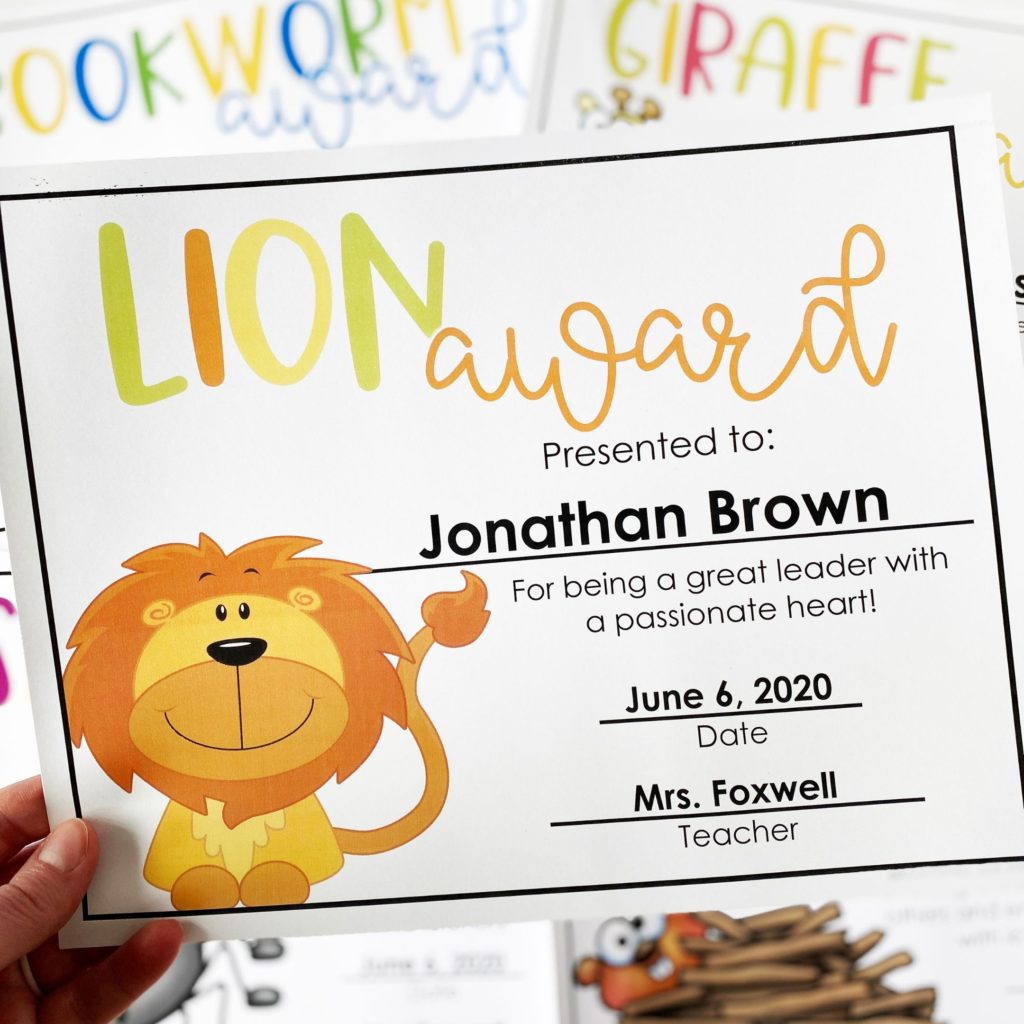 Step #6: Thank The Students!
End the ceremony by thanking your students for a great year and telling them how much you've loved being their teacher this year! Tell them that you love how each student is different and that is the reason why they each received a different award to celebrate their unique personality and heart! Remind them that there is no one else in the whole world like them and encourage them to continue doing their best as they graduate to the next grade level!
I also loved getting one last class picture of every student holding their award! Bonus points if someone else is in the room to take the picture and you can get in the picture with them! These are great to send to parents via a parent communication app like Remind or whatever platform you use!
Throw A Simple, Yet Meaningful End Of The Year Awards Ceremony!
End of the year awards are a fun and meaningful way to send your students off for summer and to the next grade level! With a million things to do at the end of the year you can make your end of the year awards ceremony simple, yet meaningful! After picking a date for the ceremony just choose the best award to celebrate each student, lay out a simple red carpet, and hand out the awards with grandeur!
Save Time With These Editable End Of The Year Awards!
If you need some fun and meaningful awards to give your students you're going to love how easy-to-use these End Of The Year Awards are!