I never dreamed I would be using the words indoor recess and social distancing in the same sentence. Yet, this is 2020 so should I really be surprised? Even with all of the guidelines in place, I have come up with some great indoor recess activities for social distancing that you and your students will love!!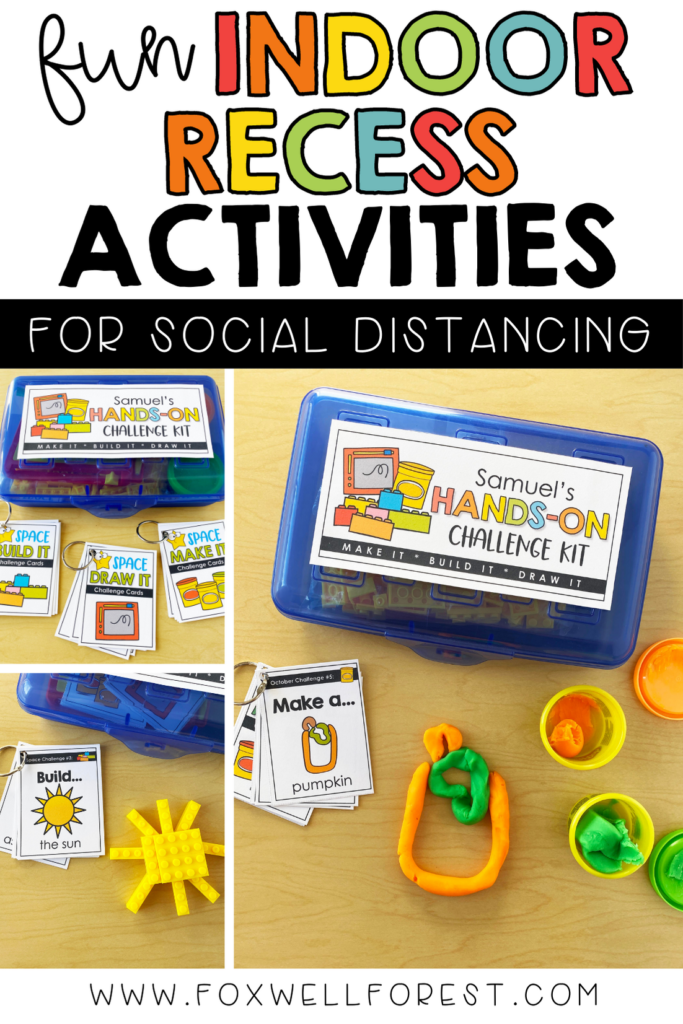 My students and I always loved indoor recess. True, it stunk that the kids couldn't get outside and run, but it always felt like an extra special time together as a classroom family. We had toys, like building blocks, marble runs, and game boards, that were reserved only for this time. The kids loved using them and it was so fun to see them freely playing, building, creating, and using their imaginations together!
So, now the question we face is: how do we keep some of the fun, hands-on activities that we used to love to do for indoor recess while also still following the guidelines of social distancing and not sharing supplies?
I'm so excited to share with you that I have an easy, fun, and hands-on solution for your students…
Indoor Recess Kits!
Kids still need time to play, explore, and create! With all of the guidelines in place for social distancing these Indoor Recess Kits are an easy, fun, and hands-on solution for your students!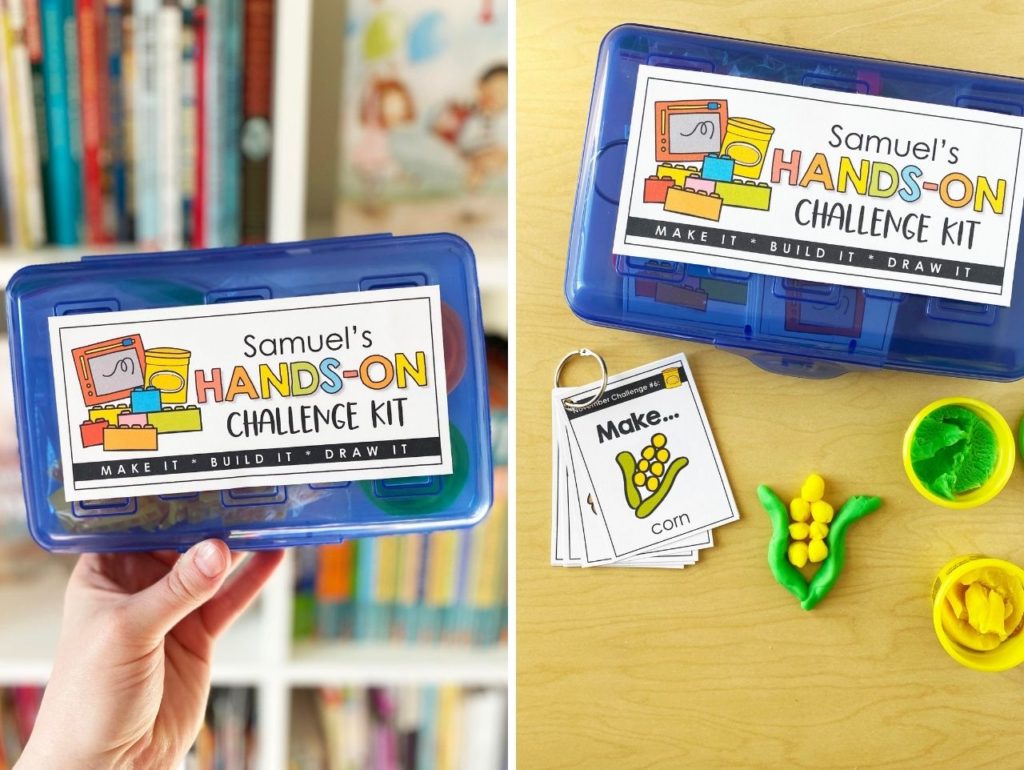 Each month comes with 24 challenge card activities for students to use to make, build, and draw their way through those dreary indoor recess days.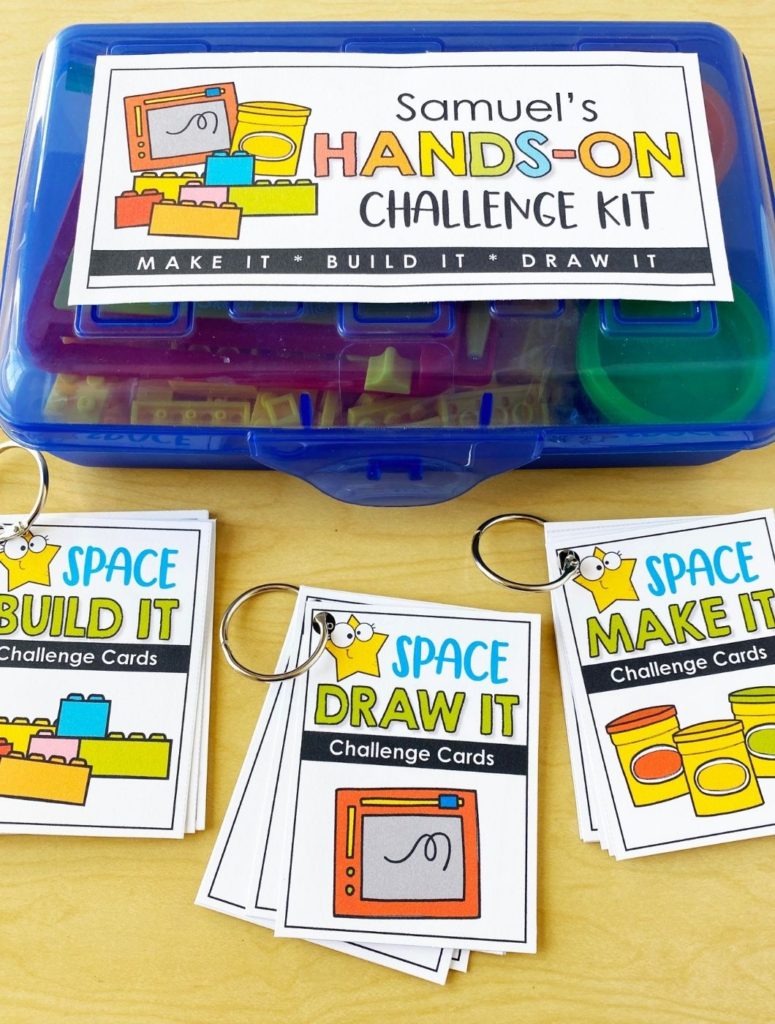 Each student will get their own kit that includes play dough, building bricks, and a mini sketch pad (a printable one comes in the kits that you can laminate and have your students draw on with a dry erase marker). The materials will stay the same throughout the year, but the cards will change each month so that the kids don't get bored and lose interest with the kit.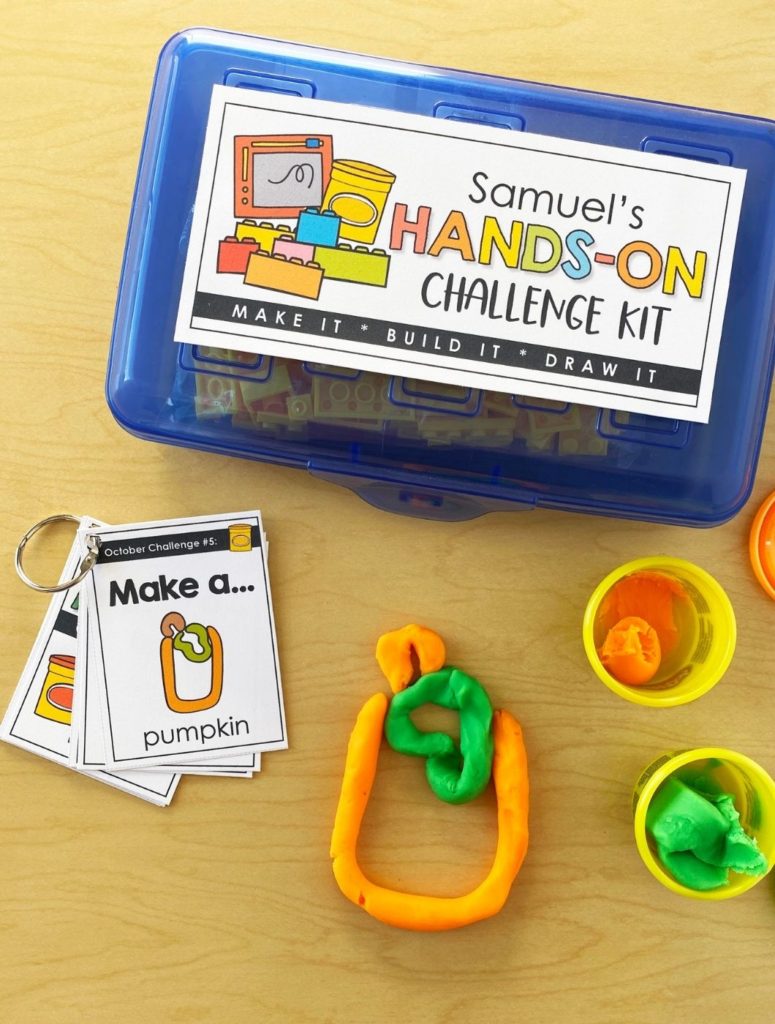 There are 8 activities for each material (make it cards use play dough, build it card use building bricks, and draw it cards use a sketch pad). The growing bundle includes new cards available for each month for you to give to your students.
These kits also work great for morning work and early finishers!
Getting The Supplies On A Budget
I know that these kits will be a huge help for you and a lot of fun for your students this year! Yet, I also know that as teachers we already spend a lot on our classrooms. So, I spent quite a bit of time hunting for the best prices, because I wanted to make these kits as budget-friendly as possible since each student needs his or her own kit.
Below I've included the most common questions I've received about getting the supplies for the kits. As a bargain-girl, I'm excited to help save you time and money by sharing the best places to get the supplies for these Indoor Recess Kits!
1. How much do the additional supplies cost for the student kits?
The additional supplies for each kit cost me about $4 to make. This included the storage container(s), play dough, building bricks/Legos, and sketch pad! Remember that with this kit the supplies stay the same all year long, but the challenge cards change monthly to keep students engaged with the kits!
I'm all about easy and functional organization of materials, so in the resource I've included two organization options for making the kits for your students:
Option #1: A Pencil Box
Option #2: A Folder With A Zipper Pouch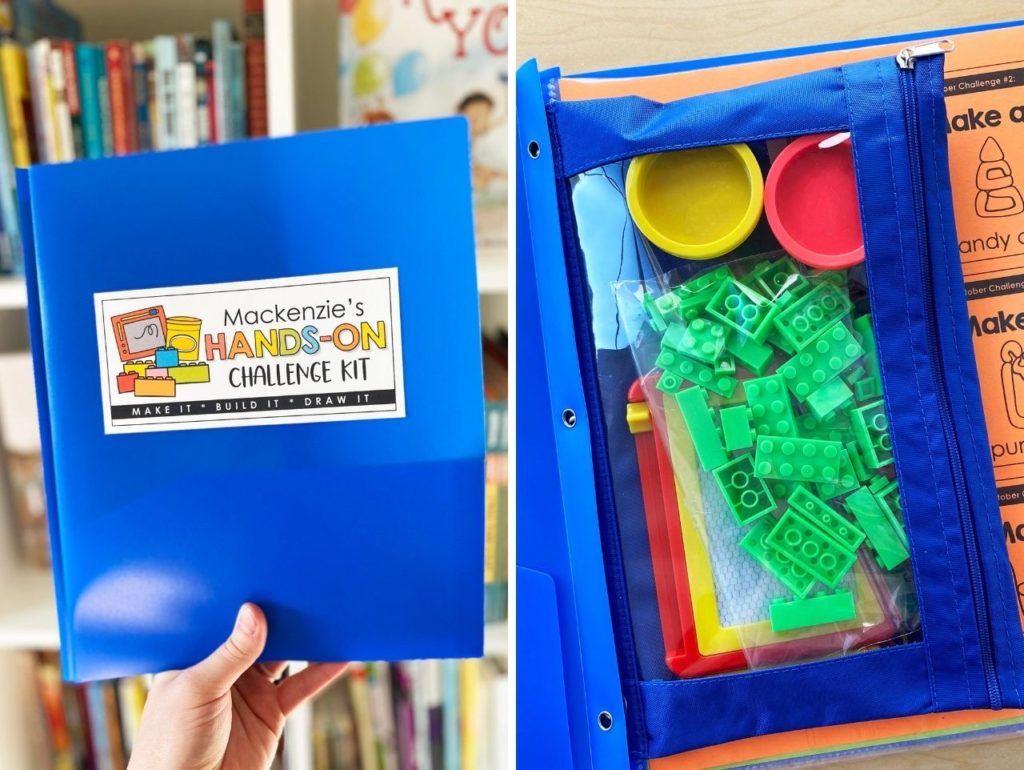 But, let's be honest–you can get as creative as needed! Use a large Ziploc bag for the container OR think about what storage options you already have. Maybe you could even laminate one of those large manila envelopes (our school always had a big supply that we could use!) It doesn't have to be pretty to be functional!
You could also use the printable sketch pads included in the resource by laminating them and having your students draw on them with a dry erase marker. That means you could just get your students the building blocks and some PlayDoh (see below for more information on each of these), which would then only cost $2.00 a kit!
2. Where did you get the single color Legos and how many did you include?
They are off brand Legos from the Dollar Tree! They are called "Make-It Blocks" and there are 48 pieces of one color in a bag for a dollar each (you can't beat that!) In my Dollar Tree store they were hanging up in the kid's toy aisle. I got each student a bag and just dumped the 48 pieces into a Ziploc bag for easier storage inside the kit.
3. What is the best place to get the Play Doh?
Walmart had the best price for Play-Doh. The pack I got was called the "Play-Doh Ultimate Rainbow 40 Pack" and was only $14.96! It came with 40 one-ounce containers. I gave each student two containers in their kit. The Dollar Tree did have an 8 pack of mini off brand play-dough, but in my experience the real stuff lasts much longer. But, that is another option to try if you'd like.
Also, just an FYI–if you want to use the regular size containers of PlayDoh, Walmart is the place to get them! They're only 50 cents each there!
4. Where did you get the mini Etch-a-Sketch pads?
I also got these mini sketch pads from the Dollar Tree (such a magical place!) In my Dollar Tree store they were in a box on a shelf in the kid's toy aisle. But, if you can't find them or want to save spending an additional dollar per student you can use the printable sketch pads that I've included in the resource!
Teacher Reviews:
Teachers and students are absolutely loving these Indoor Recess Kits!! Here are just a few of the raving reviews from teachers who have used them:
"This is a great resource for morning work, or indoor recess. It keeps kids extremely engaged, and helps them learn in a different way!"
"Thank you so much! I was struggling with my students not being able to share supplies/books this year and this is the perfect activity to do when my kids finish an activity early. They love the playdoh activities most!"
"My kids loved this! They felt like they had their very own, special box. It was wonderful for me because of the covid social distancing rules..it worked out perfect for quick finishers."
"I just gave my students the October Build It challenge cards and they loved them. I am excited to be able to change the cards every month!"
"My daughter loves this idea for little breaks throughout her workday. I love that she's still using her mind and creativity. I also love that there's a different set for each month because my daughter tends to get bored quickly. This is a great resource for a very affordable price. Looking forward to the release of other months."
Click HERE To Grab The Growing Indoor Recess Kit Bundle!!
The Indoor Recess Kit Growing Bundle is the best way to grab the challenge cards for each month! Plus, the price of the bundle increases each time a new resource is added, so by purchasing the bundle now you are getting it for the lowest price! When the bundle is complete, it will include $36 worth of resources!
Each Month's Indoor Recess Kit Includes:
24 Themed Hands-On Activities: 8 Make It challenge cards, 8 Build It challenge cards, and 8 Draw It challenge cards (available in color and black/white)
Kit Labels: a printable and editable Google Slides™ version is included (available in color and black/white)
Printable Sketch Pads in 3 different sizes (quarter, half, & full page): that you can use in place of the store bought one (available in color and black/white)
Detailed Instructions on how to use and make the kits
Want to try it out first? You can grab an exclusive Space themed kit HERE that is truly out of this world! 🙂
Your Students Will Love These Indoor Recess Activities For Social Distancing!
I'm so excited for your students to be able to use these kits to play, explore, and create during this crazy school year! They will have so much fun using these indoor recess activities for social distancing!
As always, please let me know if you have any questions!