Earth Day is just around the corner! Make your lesson planning EASY with these six fun and engaging Earth Day activities that your primary students will love!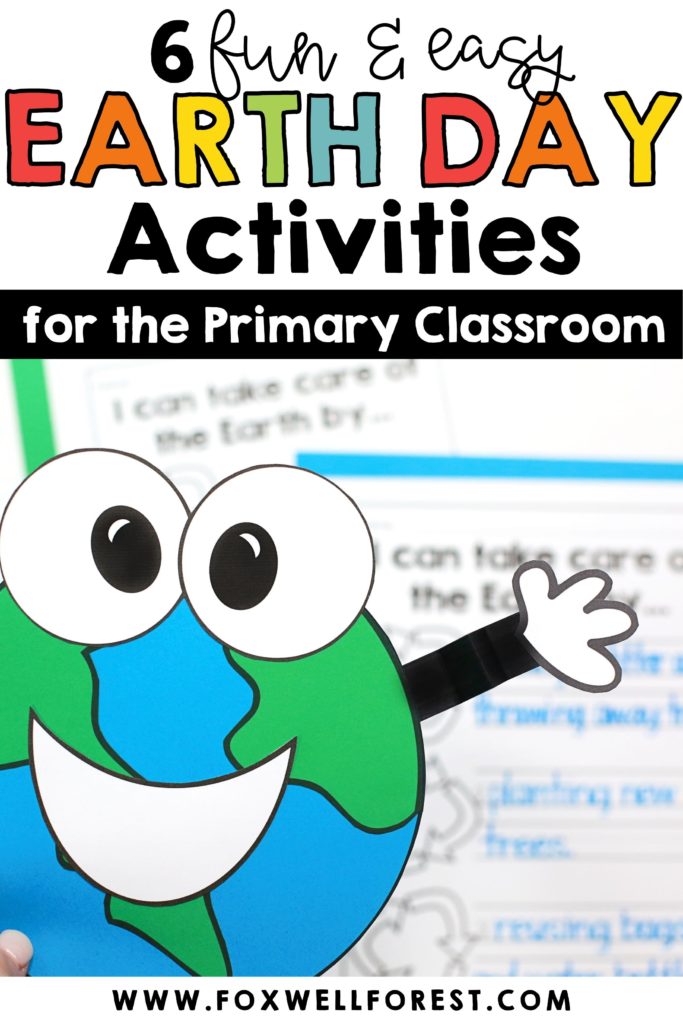 1. Class Book Swap
One of my favorite Earth Day traditions is to do a Class Book Swap! It's the perfect way to put the 3Rs into practice and get "new" books into the hands of my students!
It's super easy to do! You will just send home this editable note to families a few days before your class book swap. Students will bring in their gently used book and then on Earth Day you'll lay them all out on a table for each student to pick out a "new" book!
2. Crayon Recycling
Crayon Recycling is another one of my favorite Earth Day activities!
Students learn best when they participate in the learning and apply the concepts that we are teaching! Instead of just teaching about the ways to take care of the earth, have some fun in your class by doing some crayon recycling!
Used, broken crayons work best for this, but any crayons will work! You can either use the crayons in your classroom or send home this editable note for students to bring in crayons from home. Just have them take off all of the paper ahead of time!
You just need crayons, cooking spray, and muffin pans (I recommend the disposable ones). Spray the muffin pans and have each student put crayons into one muffin pan slot. You'll then put the pans into a 300 degree oven for 5-8 minutes. You want the crayons to be melted just enough that the colors have blended but do not over melt/mix the colors.
Let the crayons completely dry, pop them out of the pan, and then your students can enjoy coloring with their recycled crayons!
3. Earth Day Words
Build your students' Earth Day vocabulary with these word picture cards. They are a great introduction for the Earth Day Reader.
When you're finished introducing the words, you can turn this into a center by hanging the cards around the room for a read/write the room activity. My students love these and it is a great way to get them up and moving in a productive and fun way! Just have them record the words on the recording sheet. You can also add everything to a bin if you aren't able to have students move around the room.
The recording sheet could also be used as a word bank for the writing part of the craft!
4. Earth Day Reader
For years I was on the hunt for a good Earth Day read aloud to teach students practical ways to take care of the Earth. When I couldn't find one that was a good fit for first graders, I wrote this Earth Day reader to use!
This Earth Day reader is available in a printable or digital format for you to use your students to learn about Earth Day and some of the ways that they can take care of the Earth. Some of the ways include picking up litter, planting new trees, using reusable items like bags and bottles to reduce waste, and recycling.
The Earth Day words that were featured on the Earth Day word cards have been bolded in the reader for students to continue to learn and recognize the Earth Day vocabulary.
5. Earth Day Craft & Writing
I love using crafts in the classroom, especially for holidays! Crafts are great for incorporating fine motor skills, practicing listening and following directions, integrating art into the classroom, and they are also just a whole lot of fun! I find my students to be extra motivated in their writing when they know that there is a fun craft to go along with it!
The craft works great after using the activities above to learn about Earth Day and the ways that we can take care of our planet. Have your students write 3 ways that they can take care of the Earth and then assemble this cute Earth Day craft.
The craft also makes a great bulletin board or hallway display! Which is always a win-win for me!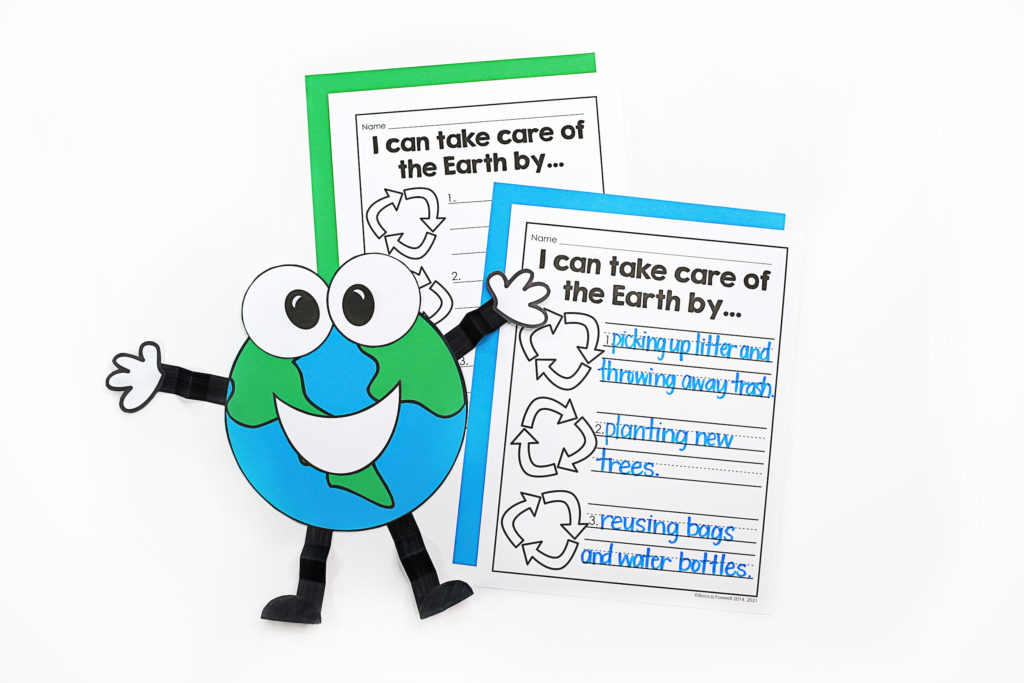 This craft also comes with four other writing prompt options. So, it could also be used in many different ways for learning about taking care of our planet! All of the writing prompts are available in ruled or lined options!
6. Hands-On Earth Day Activities
Need something to keep your students engaged during morning work? How about those fast finishers? Or maybe even during center time?
Your students will love making, building, and drawing their way through the 24 challenges in this Earth Day Hands-On Challenge Kit! I love adding some extra themed fun into our learning and this kit is perfect for Earth Day week or the month of April!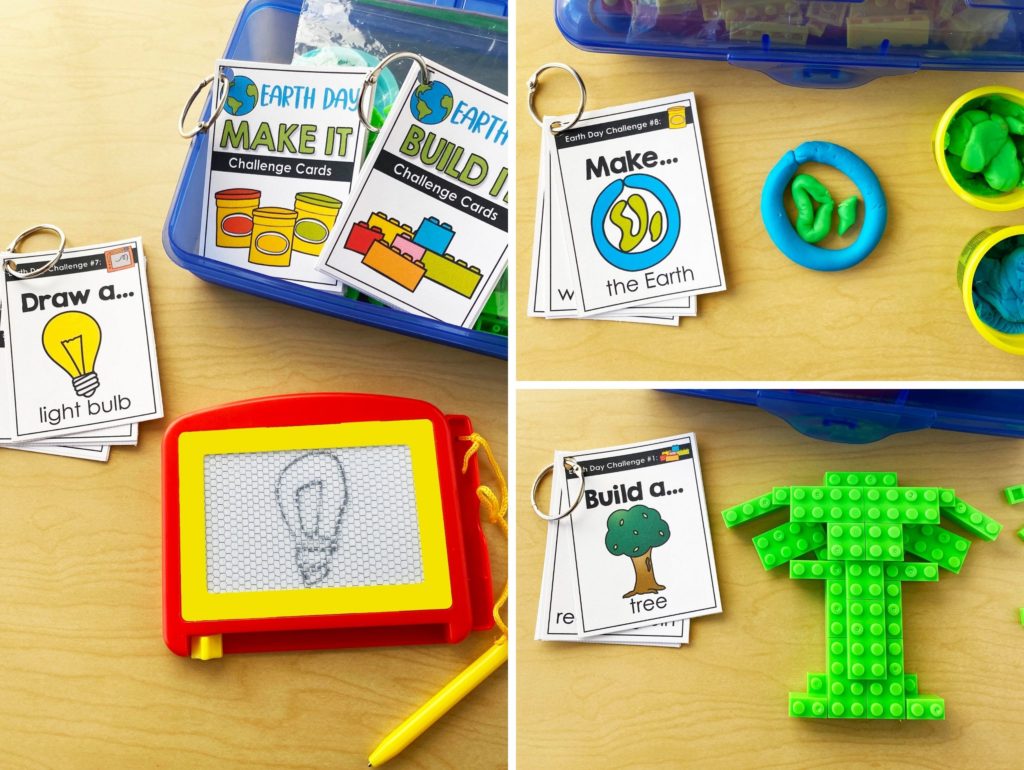 You can get the Earth Day Hands-On Challenge Kit HERE or save big by grabbing it HERE in the bundle!
Or click HERE to learn more about how to use and put together these Hands-On Challenge Kits!
Earth Day Activities
Make your Earth Day lesson planning easy-peasy-lemon-squeezy with these fun and engaging Earth Day Activities! Your students will love learning about the ways they can take care of the Earth through these hands-on activities!
Grab The Resources!