Can Groundhogs Predict the Future?
Are you frantically looking for a last minute groundhog activity for your primary students that is fun and engaging for February 2? This Groundhog Activity and Craft is fully ready to go and just what you need! You can use it for opinion writing, math (graphing) and even have a cute and easy bulletin board ready for the month with the groundhog craft! Plus, I've listed some read aloud book options below to go with it! Will the groundhog see his shadow and we will have six more weeks of winter….or is it time for spring? (PS-Is it just me or does he always seem to see his shadow?!) Oh well, that just means more time for snow activities!
Books to Read on Groundhog Day
If you've been around long, you know that I'm a pretty big fan of starting a topic with some great read aloud books. Groundhog Day is no exception and there are actually some really fun books out there to help younger students understand what Groundhog Day is all about. I've listed some favorites for Groundhog Day below.
*This post contains Amazon affiliate links, which means that if you make a purchase through them I will receive a small commission at no extra charge to you.
Groundhog Math
I'm a big fan of integrating subjects, so let's now tie in those read aloud stories into our core school subjects! Prior to Groundhog Day on February 2, have your students predict if they think the groundhog will see his shadow or not. It's best to do the predictions 1-2 school days before February 2. Use the graph to have students graph all of their classmates predictions for a fun math lesson. With this graphing mini lesson for Groundhog Day, there is even an area to practice tally marks and reading the data from the graph.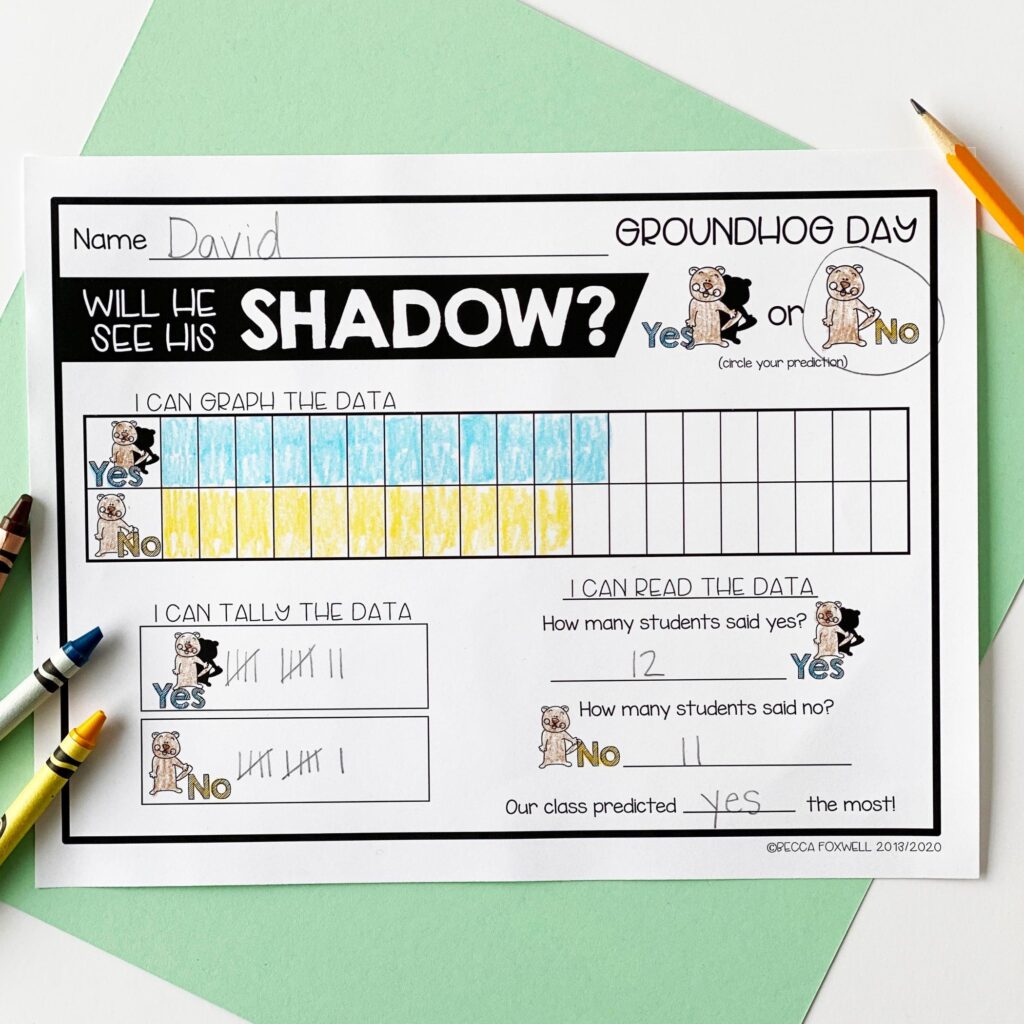 Groundhog Shadow Craft
For this simple and easy groundhog craft, there is a template for every part of the groundhog. I highly recommend deciding ahead of time if you will have your students cut everything out or if some pieces will be pre-cut. I liked having a parent pre-cut some pieces by using my Helping Hands Volunteer System just to save some time. It can be nice to let students cut out at least one part of the craft for some cutting practice. I usually saved the body for them to cut.
However, if you find yourself short on time, I've included a blackline master that makes it so easy to have your students color their groundhog instead of doing the craft! It could be fun to leave this part for morning work on groundhog's day and then check if students were correct or not with their predictions! The groundhog activity and craft even comes with a sign to attach to your groundhog that states your prediction. Plus, this groundhog activity makes an awesome bulletin board or display!
Groundhog Writing
Finally, have your students write and explain their prediction using the lined or ruled paper that comes with this resource. You could differentiate the amount of sentences depending on the writing level of the student at this point in the year.
If you want to use the Groundhog Day craft but maybe want a different writing prompt, there are four other writing options to choose from:
I love winter or I love spring (opinion writing)
Yes or No (For predictions or to state what season they like best)
Dear Groundhog: Students write a letter to the groundhog.
Blank copy-create your own writing prompt by writing it on the blank banner!
You can check out more February Writing Prompts right here for the month if you need them!
What groundhog activity will you be doing in your classroom this year?