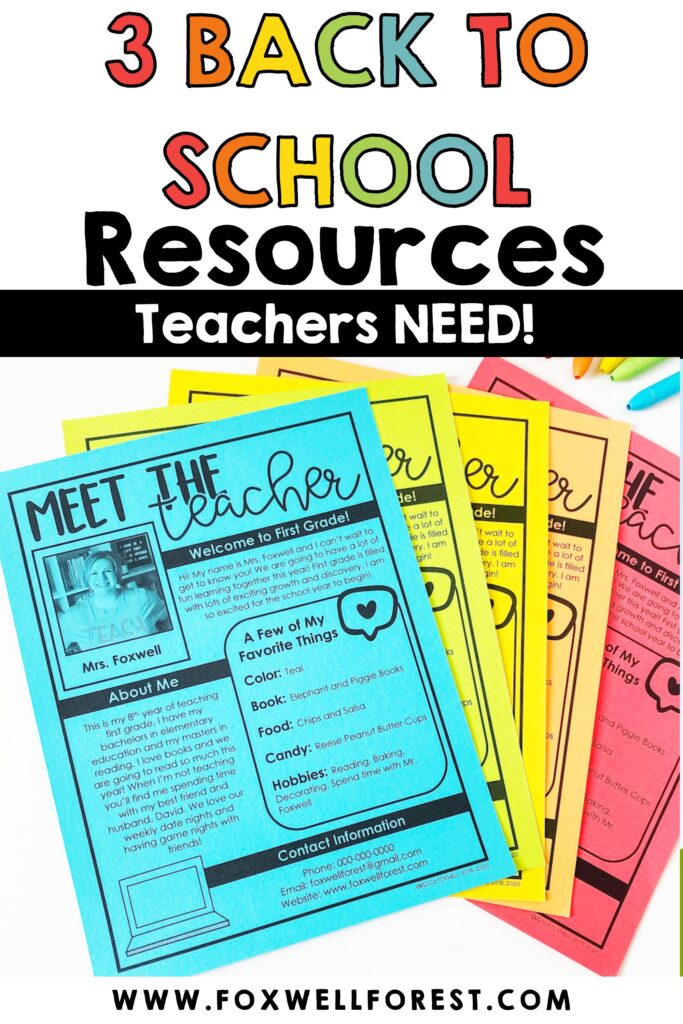 What Resources Do Teachers Need Most for Back to School?
Are you a new teacher wondering what back to school resources teachers really need to have? Or, are you a seasoned teacher who wants to streamline your back to school system? I've got 3 back to school items that are simple, effective and LOW PREP to share with you today. It is always my goal to help teachers everywhere streamline their systems, get organized and have a simple, stress-free year of teaching.
Do me a BIG favor and go easy on yourself this back to school season! Don't overcomplicate things or try to reinvent the wheel. Chances are, if you are searching for something to use in your classroom-someone has already created it and shared for others to use! Let's look at these 3 back to school resources that teachers NEED below! (psssst……2 of them are FREE and they are all editable!)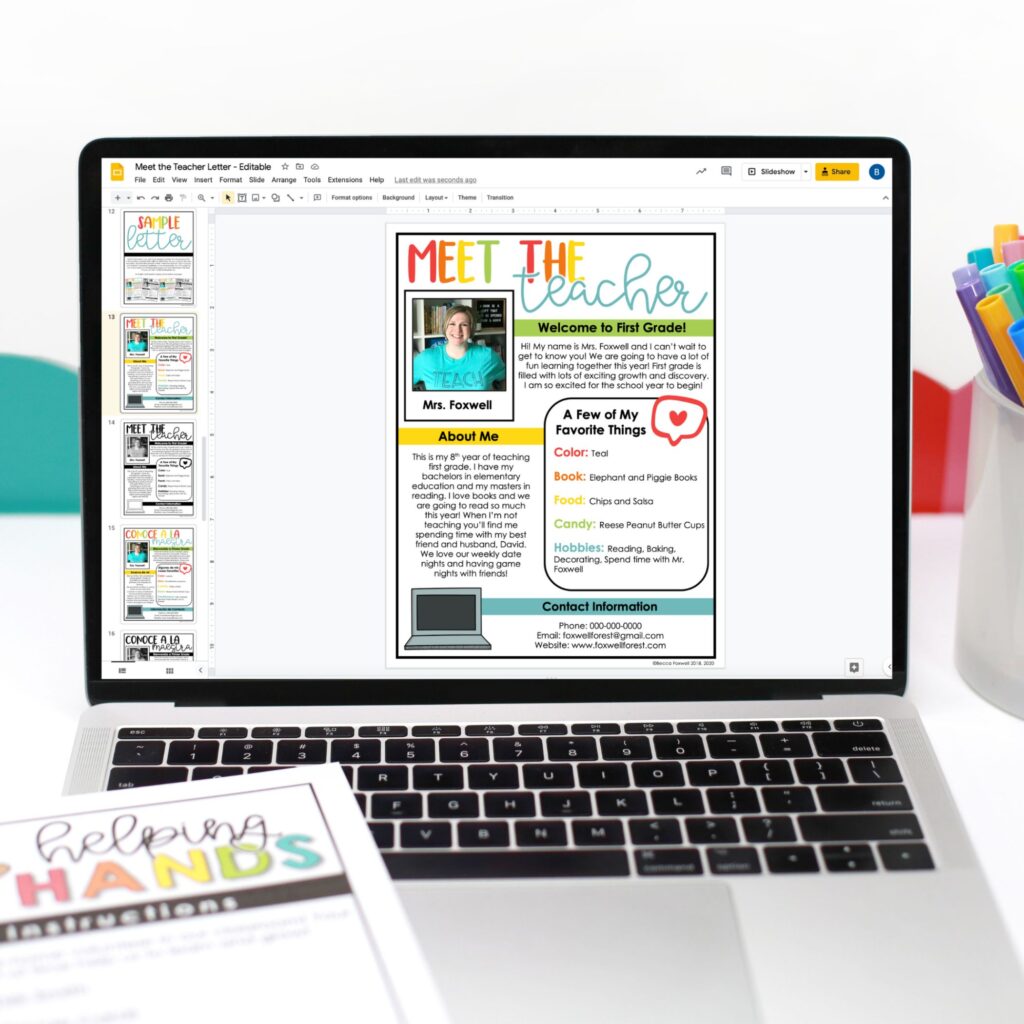 Do you need a Meet The Teacher Letter to send to your new students this year? This editable Meet the Teacher Letter Template will save you time and make it SO easy for you to put together your Welcome Back To School letter! The format is all done for you, so all you need to do is put in your information!
You can download it in color or black and white, plus it is available in a Spanish version if needed. You can send it in the mail, through email, text or even apps like Seesaw, Remind and Google Classroom.
Back to school time is always so exciting! Your students will love getting this from you and learning more about their new teacher! It even has a spot for your picture because most of the time students want to see what you look like before the first day to feel more at ease!
Parent communication is so important for teachers! There is no better to time to start off with strong communication than back to school time. This Editable Back To School Forms FREEBIE includes everything that you need to gather the important information from families!
Forms included are:
Student Information Sheet
Getting to Know Your Child Questionnaire
Back to School Forms Checklist
Back to School Paperwork Checklist
There is no reason to stress about parent communication throughout the school year! Remember to keep open lines of communication, keep the communication POSITIVE, keep a set communication schedule and keep a parent communication log. Read more HERE about how to have great parent communication throughout the school year!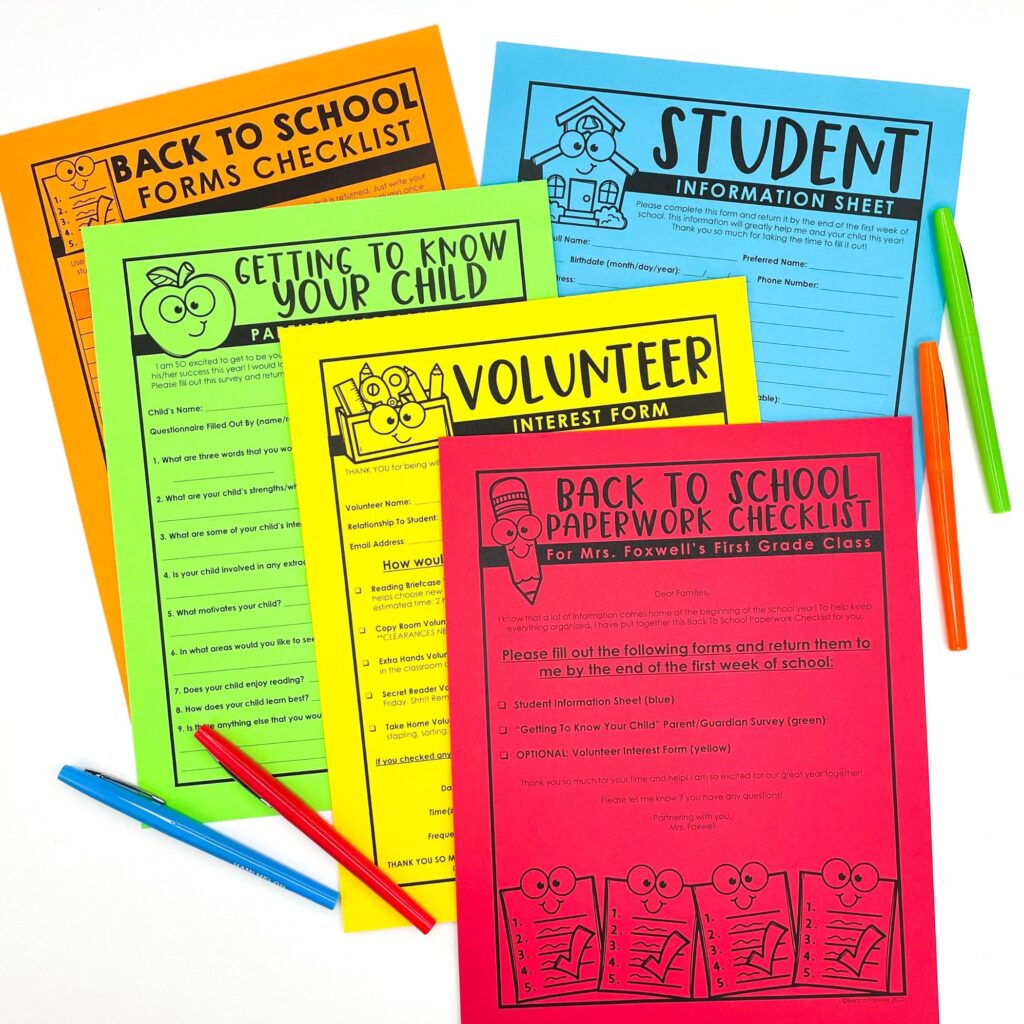 Are you looking for fun activities for the first week of first grade? This Getting to Know You Show and Tell Bag will be a big hit with your students! The bonus is that it requires zero prep from you except for stapling this FREE printable note to a brown paper lunch sack! Trust me when I say that I was all about simple and easy during the first few weeks back to school since it is so busy!
This FREEBIE is EDITABLE and tells students to bring in a special item with them that will help the class get to know them better for show and tell. Read more HERE about how I liked to incorporate these Getting To Know You Bags during the first week of school!
You could definitely extend this show and tell activity into an easy first writing sample for the year by having your students write about their special item. I have typically found that students are more engaged and excited about writing when they enjoy what they are writing about. When students get to pick the writing topic, it seems to help with staying engaged in writing as well!
Need more simple writing ideas for your classroom? CHECK OUT CLASS BOOKS!
Must-Have books for Back to School
If you need some great read alouds for the first weeks of school you might also want to check out these MUST HAVE BOOKS FOR BACK TO SCHOOL!
GRAB ALL 3 BACK TO SCHOOL RESOURCES BELOW:
I'm so excited for your new school year! Here's to working smarter and not harder during a busy time of year! I'm cheering you on for a very successful back to school season!